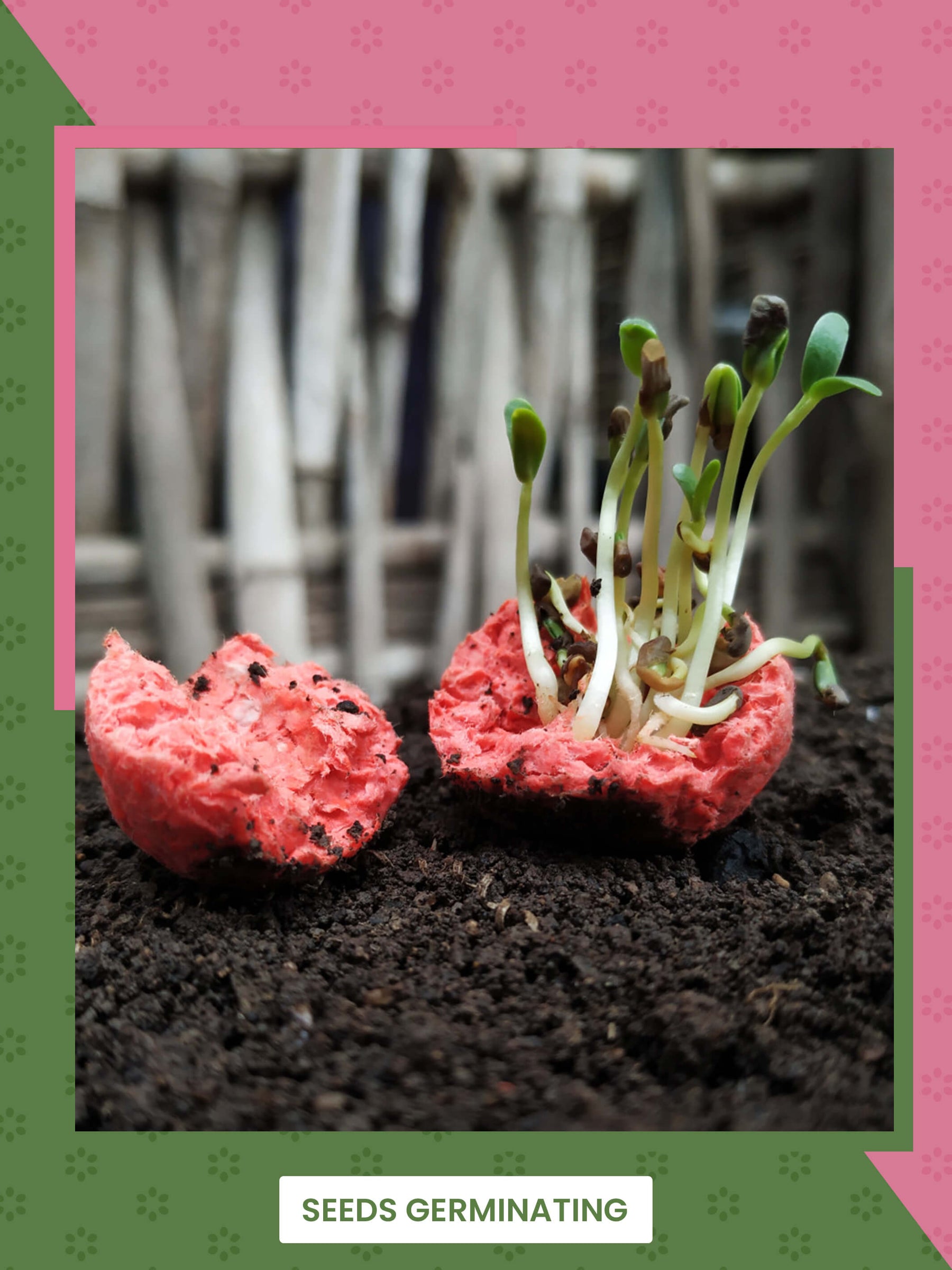 Wedding Gift - Plantable Beej Mithai Grow Kit
Inclusive of all taxes
🪔 1 Plantable Mithai. Any 1 from Ladoo (Tomato & Radish) and Barfi (Okra & Amaranthus)
🪔 1 Steps to grow card
🪔 1 Coir Pot
🪔 2 Cocopeat Discs
Bombay Greens'
Eco-Friendly Beej Mithai Grow Kit
for your loved ones contains look-alike mithais embedded with seeds that grow into plants.
Our Eco-Friendly
Eco-Friendly Beej Mithai Grow Kit
contains:
1 Plantable Mithai - Any 1 from Ladoo (

Tomato & Radish)

 and Barfi (Okra & Amaranthus)
1 Steps to grow card
1 Coir Pot
2 Cocopeat Discs
Handcrafted locally:
These Plantable Eco-Friendly
Plantable Beej Mithai
are hand made with love by rural women self-help groups as part of their livelihood program.
Go Local with the
Plantable Beej Mithai
embedded with seeds and support the artists & women community.
🧨 Our Eco-friendly Plantable Mithai Box contains:
🪔 1 Plantable Mithai (Ladoo or Barfi)
🪔 1 Steps to grow card
🪔 1 Coir Pot
🪔 2 Cocopeat Discs
Note: Any 1 Mithai will be randomly sent
These seed crackers have given me a job & helped me support my children's education. It has uplifted my self-esteem & made my life meaningful!
– Bhanu Devi
FAQs
Below you will find some common questions asked by our customers.
General
This Beej Mithai is very easy to grow as it comes with a very easy-to-follow user manual that will instruct you on how to grow these plantable mithais.
This Beej Mithai Online at Bombay Greens is not customizable yet. However, there are other grow kits available for you to choose from and get one that you're looking for.
No! These are look-alikes of crackers and sweets. They don't create pollution & helps make your living spaces cleaner & greener.
You need to soak these crackers & sweets in water & then plant them in soil. Complete set of instructions is given in the kit.
Yes, our hampers can be enjoyed by everyone & doing the activity together will bring a lot of joy & smile on everyone's faces.
Every cracker/mithai contains different seeds. For example: Sutli Bomb contains Roselle, Chakri contains onion seeds. We have mentioned the seeds next to the crackers' names.
Shipping
Shipping is FREE for all PREPAID orders above Rs 598.
ALL COD orders will be charged additional Rs 65 irrespective of the total value.
Returns
We do not offer returns on the products however we issue replacements if there is a concern with the item. For replacements, please write to us on info@bombaygreens.com
Cancellation
Orders once placed through  www.bombaygreens.com cannot be cancelled and no refunds will be made once an order has been successfully placed.
Danke Group
Flt-3 Salasar Kutir, 60 Feet Rd, Bhayandar (W), Mumbai-401101
Customer Care Phone - +91 8928494885
Customer Care Email - info@bombaygreens.com