Increased size of
Vegetables

2X Growth for Veggies & Flowers

Increased buds & bigger flowers
Liquid Fertilizers
100% water soluble organic fertilizers, for all vegetables & flowers that works like a liquid meal for your plants which increases the
uptake of nutrients in them and provides guaranteed visible results in 7 days
Let customers speak for us
Diwali Hamper
Eco-Friendly Cracker Box contains:
• Chakri- Seeds embedded: Onion Seeds
• Anar - Seeds embedded - Golden Shower Tree
• Colourful Artisan Ceramic Diyas
• Tea Light Candles
• Incense Cone Pack
Aesthetic Metal Planter
Infuse your home decor with vibrancy using this gorgeous Metal Planter
Sturdy metal with an attractive polish
Minimalistic Design
Perfect for the living room, bathroom, patio, balcony or besides your sofa!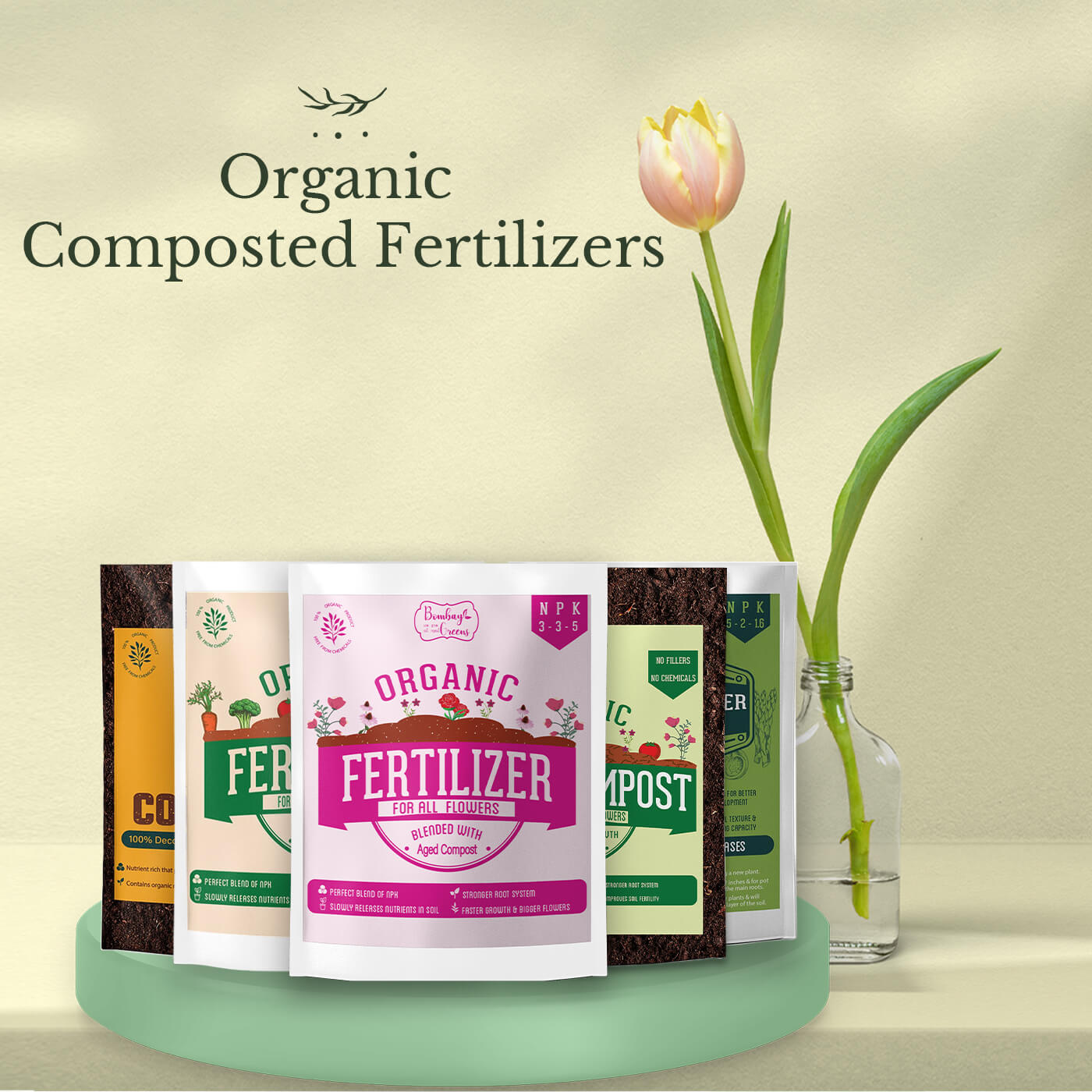 Cute and Vibrant Metal Watering Can
Cute & colorful watering cans
Extended spout design makes it spill free, keeping you dry and mess-free in the process.
Durable strength with high quality galvanized iron sheet
Organic Composted Fertilizers
Benefits:
• All-natural soil supplement
• Improves soil fertility
• Does not burn plants
• Complete Nutrition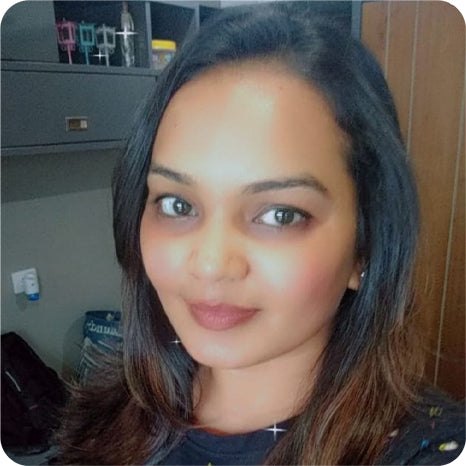 My go to brand for my gardening needs. Since the day I came across this brand, I've been a fan of it.
- Avani
I'm a huge fan of this soil less potting mix... it's very beneficial for my plants.. Thank u bombay greens...❤🥰
- Gargi
I have been using potting Mix and Liquid fertilizer from Bombay Greens and they are really superb. Thank you Bombay Greens. ❤️
- Suruchi
The grow kits offered are a fun DIY..
Cheers to BOMBAY GREENS for my beautiful plants.
-Chetan Soni
Organic Soil Less Potting Mix
Benefits :
• 2x plant growth
• 4 in 1 mix (Cocopeat, Vermiculite, Fertilizer, Neem cake)
• Light & Fluffy Mixture
• Perfect for potted plants
Repotting Mat
Looking for a gardening mat that's both practical and stylish? Look no further than our Bombay Greens Gardening Mat!

Features :
• High Quality 300 GSM Geo Fabric Material
• Durable and Long-lasting
• Non-Slip Design
• Easy to Clean
• Large Size
Watch our video on
How to use the fertilizer
FAQs on Liquid Fertilizers
General
Liquid Organic fertilizer is the most important thing you can add to your garden. It is the one thing that will ensure consistent growth year after year. Fertilizers are one of the best ways to correct deficiencies or provide extra nutrients early, mid, or at the end of the growing season.
The main advantage of using organic fertilization is that it builds your soil over time. These fertilizers are made from natural sources, and they help plants grow, strengthening soil texture and overall health.
NPK is an abbreviation for nitrogen (N), phosphorus (P), and potassium (K). These are the three primary nutrients used by plants.
After your seedlings grow a second set of true leaves, fertilize your plants with half of the usual amount of liquid fertilizer every 14 days (2 weeks). Then as the plants grow, apply the full amount of the fertilizer (follow instructions on the label) once in 7-9 days.
Liquid fertilizer should be mixed in water, 2 grams in one litre (usually every 7-9 days). Once the liquid fertilizer is mixed and diluted with water, it should be given to plants as usual watering.
For Leafy greens, you may buy our Leafy Greens Liquid Fertilizer
For Roses and Orchids, you may buy our Roses & Orchids Fertilizer
For Other Flowers, you may buy our All Flowers Fertilizer
For all Vegetables and Fruits you may buy our Vegetables Fertilizer
Shipping
Shipping is FREE for all PREPAID orders above Rs 598

ALL COD orders will be charged additional Rs 65 irrespective of the total value.
Returns
We do not offer returns on the products however we issue replacements if there is a concern with the item. For replacements, please write to us on info@bombaygreens.com
Cancellation
Orders once placed through  www.bombaygreens.com cannot be cancelled and no refunds will be made once an order has been successfully placed.
Now get an Abundance of growth in your house plants using Bombay Greens Organic
Liquid fertilizer for plants
Are you wondering why your house plants are growing slowly or have fewer flowers? They might be looking for plant food! Yes, just like us plants need that extra care and the right foods to grow and thrive. Introducing Bombay Greens organic liquid fertilizer for plants, a natural solution for abundant plant growth without any chemicals.
Our organic plant fertilizers are designed to provide essential nutrients to plants in a readily available form so that your gardening journey is hassle-free. With their easy absorption by plant roots, liquid plant fertilizers help improve overall soil health.
read more

read less

What are Organic Liquid Fertilizers?

Organic plant fertilizer is a kind of liquid fertilizer that is made from organic matter containing absolutely no chemicals. Liquid fertilizers for plants are easier to use as compared to other kinds of fertilizers.

These natural fertilizers for plants are created using natural elements including plant matter, and other organic components. Liquid plant fertilizer includes necessary minerals that are good for plant growth, and with their slow-release, they give plants a consistent source of nutrients.

Different Liquid Fertilizers Available at Bombay Greens

Bombay Greens understands your need for organic plant fertilizers that are easy to use and safe for both your plants and the environment. That is we have brought together some of the best organic fertilizers for plants that promote healthy growth.

You can also find different combo packs for a mix of organic plant fertilizers for your house plants.

Importance & Benefits of Liquid Plant Fertilizer - Bombay Greens

Enhanced Nutrient Availability

:

Liquid plant fertilizer

provides essential nutrients to plants in a form that is easily absorbed by their roots. This helps in faster nutrient intake and promotes healthy growth.

Balanced Nutrient Composition

: Liquid o

rganic plant fertilizers

are specially formulated to provide a balanced mix of essential nutrients, including nitrogen, phosphorus, potassium, and micronutrients for plants.

Rapid Action

: Because

liquid plant fertilizers

are in liquid form, they work quickly, enabling plants to react swiftly to nutrient deficits. This can be especially helpful when plants are under stress.

Foliar Application

: By foliar spraying, liquid o

rganic plant fertilizers

can be administered directly to plant leaves. This technique promotes effective nutrition absorption through the leaf.

Improved Soil Fertility

:

Natural fertilizers for plants

are made from natural sources that help to increase the fertility and health of the soil. They improve soil structure, encourage advantageous microbial activity, and boost the amount of organic matter in the soil, fostering a fertile environment for plant growth.

How Bombay Greens Liquid Fertilizer Boosts Your Plant's Health

Bombay Greens liquid fertilisers are all natural and helpful for your plants. If you are looking for the best fertilizer for flowering plants then you have arrived at the right place.

Essential Nutrients

: Our liquid fertilizers for plants contain important nutrients like Humic Acid, Fulvic Acid, Amino Acid, Seaweed, Cytokines, Auxins and other Micro-nutrients.

No Chemicals:

Get the best

liquid fertilizer online

from Bombay Greens for all our products are 100% organic without the use of any chemicals.

Improves Soil condition:

Our

plant fertilizers

not only improve flowering and fruiting but also the health of the soil.

Versatile:

We have some of the

best fertilizers for flowering plants

and vegetable plants that can be used for plants in soil and for plants grown in a Hydroponics system. You can use these liquid fertilisers as foliar sprays too. Our

fertilizer for rose plants

ensures more number of buds and bigger blooms.

Easy to Use

: Most of our liquid fertilizers come in powder form which is easier to use. Just follow the instructions as mentioned on the pack to get beautiful plant growth. You can see visible results in 7 days.

Why Choose Bombay Greens for all your gardening Needs?

Bombay Greens is your one-stop solution for all your gardening needs. From the best organic liquid fertilizer online in India to some helpful gardening products you can find it all at Bombay Greens. Move over plastic planters and grow your plants in our eco-friendly grow bags that are environment-friendly.

Get a salad grow kit and various seeds online from Bombay Greens and grow your own salad greens. You can also find high-quality indoor gardening kits that will make your gardening journey easier.


FAQs on Liquid fertilizer for plants

How often should I use the liquid plant fertilizer?

You can use the liquid fertilizers for plants once a week in the quantity mentioned on the pack.

Is the liquid fertilizer suitable for all types of plants?

Yes, Bombay Green Liquid fertilizers are suitable for all kinds of plants like indoor and outdoor plants. There is a selection of organic liquid fertilizers for flowers, vegetables and leafy greens that you can choose for different plants.

Can liquid fertilizer for plants also improve soil health?

Yes, liquid fertilizer for plants improves soil health by adding necessary nutrients to the soil. Bombay Greens organic fertilizers have essential components like Humic Acid, Fulvic Acid, Amino Acid, Seaweed, Cytokines, Auxins and other Micro-nutrients that are both helpful for plants and soil.

Do I need to follow any specific instructions to use the liquid plant fertilizer?

Follow the instructions mentioned on the pack, because each kind of liquid fertilizer is different. As a general rule, you can mix 2 gms of fertilizer powder with 1 litre of water to get your liquid fertilizer ready.

In how many days I can see the results with liquid plant fertilizer?

You can see visible changes in just 7 days.