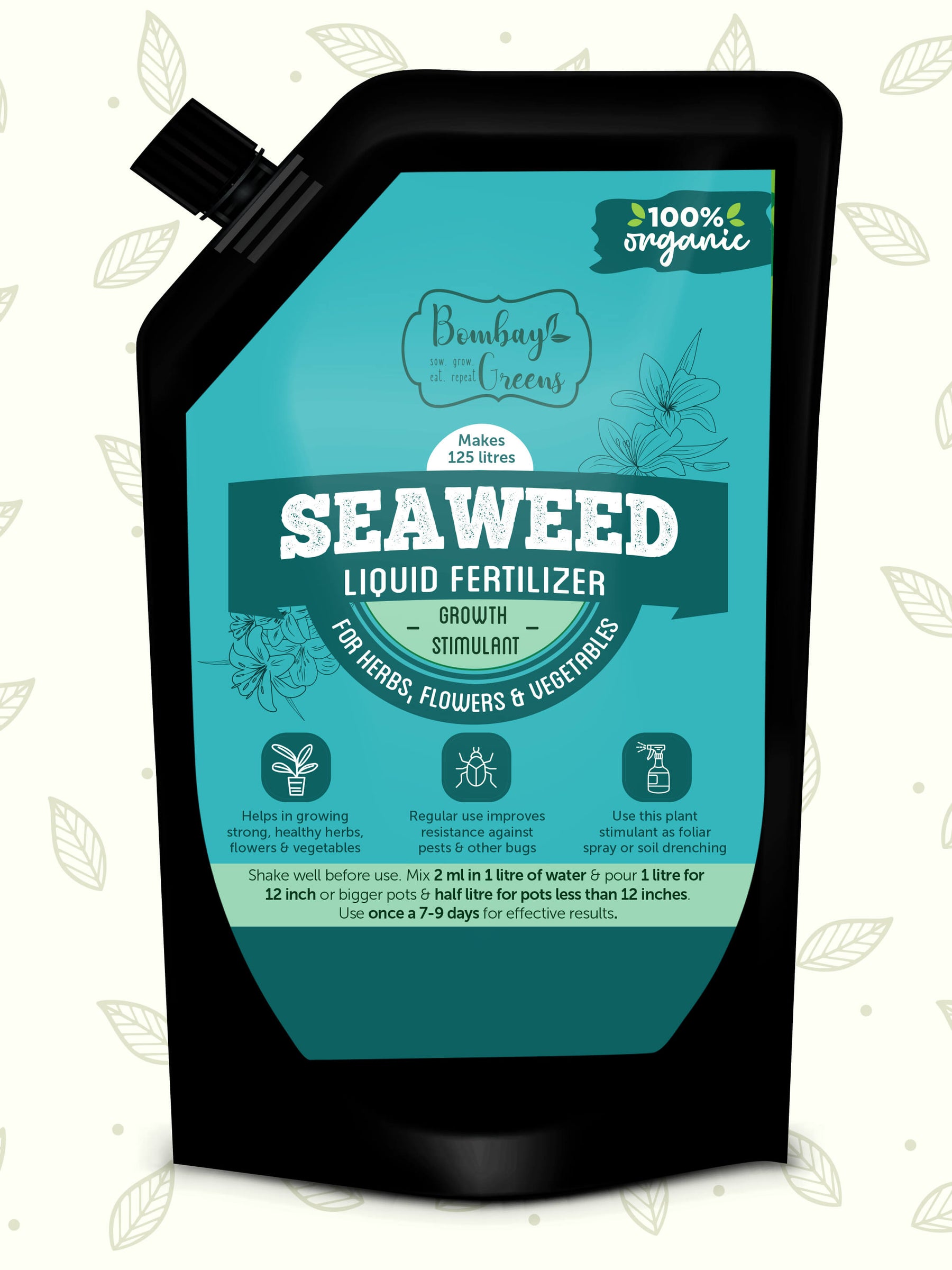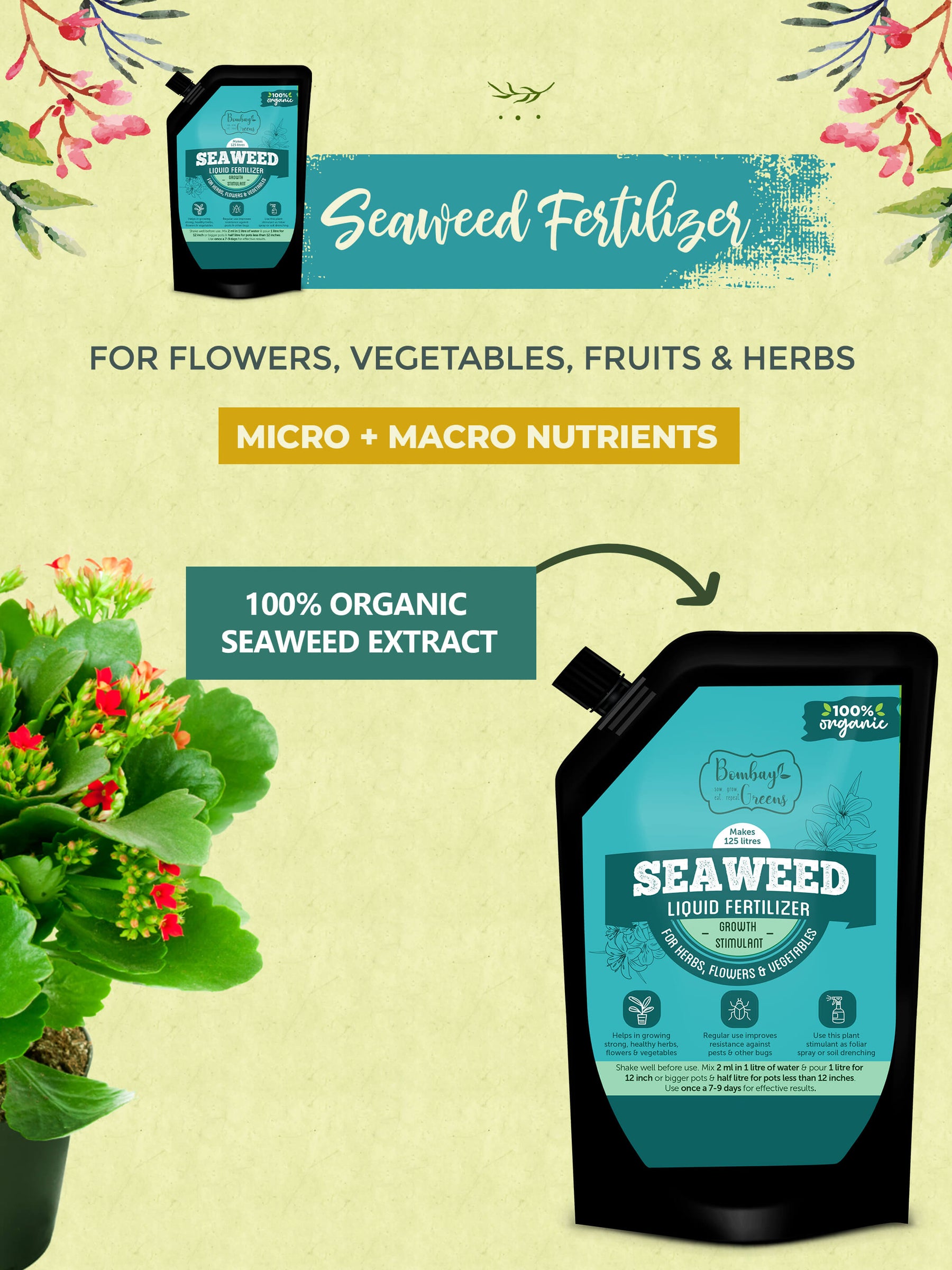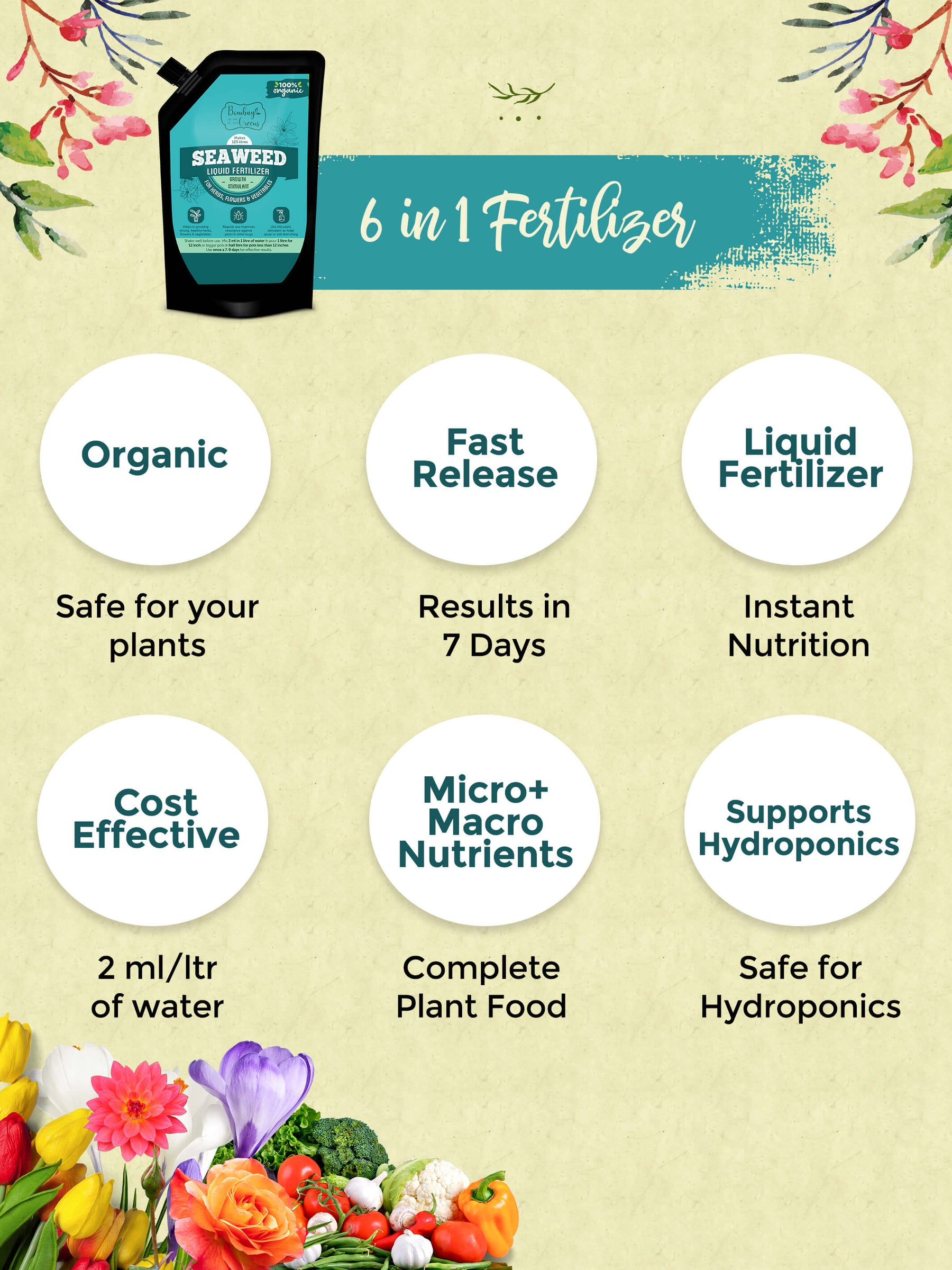 Liquid Seaweed Fertilizer 250ml
Inclusive of all taxes
Select Quantity:
Pack of 1 - Rs. 299
Must-Try BestSellers!😍
Description:
100% Organic Seaweed extract for all plants (flowers, vegetables, fruits & herbs).
Don't use chemical fertilizers in your garden. Switch to all natural Seaweed fertilizer with micro-nutrients for best results.
Helps plants in germination, rooting and establishment, from seed to mature plant. It improves natural plant health and the ability to withstand environmental stress, including drought.
Ensures maximum nutrient uptake.
Boosts healthy root development.
Improves seed emergence, aids rooting, alleviates transplant shock and builds resistance to environmental stress.
250 ML pouch of Liquid Seaweed Fertilizer. (Pack of 1)
Two pouches 250 ML each of Liquid Seaweed Fertilizer. (Pack of 2)
Mix 2 ML in litre of water
- For small pots apply 500ml solution
- For big pots (12inches or bigger) apply 1 litre solution
- Use once in 7-9 days for a big, bountiful harvest
- Can be used as soil drenching or as foliar spray
Good products
It is a little early for me to give you a proper feedback. However, I am quite satisfied with the early indications shown by some of my plants. On the whole, I do feel that the organic / seaweed fertilizers are making a significant difference. Thank you for your concern.
Over all loved the product.....
It gave new life to my dying plants Simply an amazing product.
Excellent quality !
A great purchase for flowering plants. A value for money product.
Gets the job done
An amazing and organic fertilizer for all my plants. I love this stuff. Plants that looked like they were dying came back to life.
Excellent fertilizer
This fertilizer is really good, would highly recommend as a great seaweed fertilizer
FAQs on Liquid Fertilizers
Shipping
Shipping is FREE for all PREPAID orders above Rs 598.
ALL COD orders will be charged additional Rs 65 irrespective of the total value.
Returns
We do not offer returns on the products however we issue replacements if there is a concern with the item. For replacements, please write to us on info@bombaygreens.com
Cancellation
Orders once placed through  www.bombaygreens.com cannot be cancelled and no refunds will be made once an order has been successfully placed.
Danke Group
Flt-3 Salasar Kutir, 60 Feet Rd, Bhayandar (W), Mumbai-401101