Eco-Friendly Plantable Seed Rakhi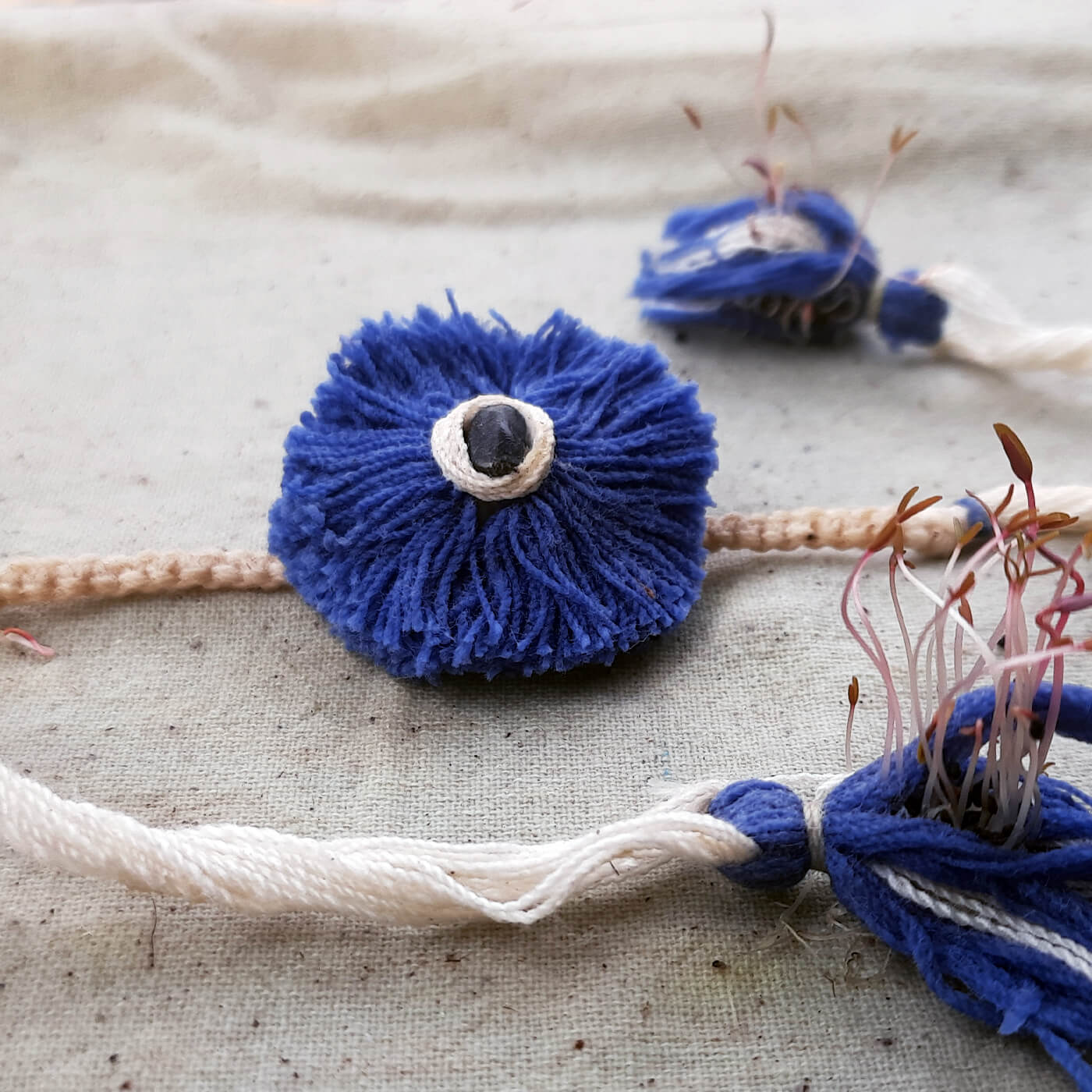 Bio-Degradable & Recyclable
Made from Recycled paper & waste materials, all paper coverings are completely bio-degradable
Made by Rural Women
All our seed rakhis are made by rural women that helps in improving their livelihood & well-being.
These plantable rakhis have given me a job & helped me support my children's education. It has uplifted my self-esteem & made my life meaningful!
– Bhanu Devi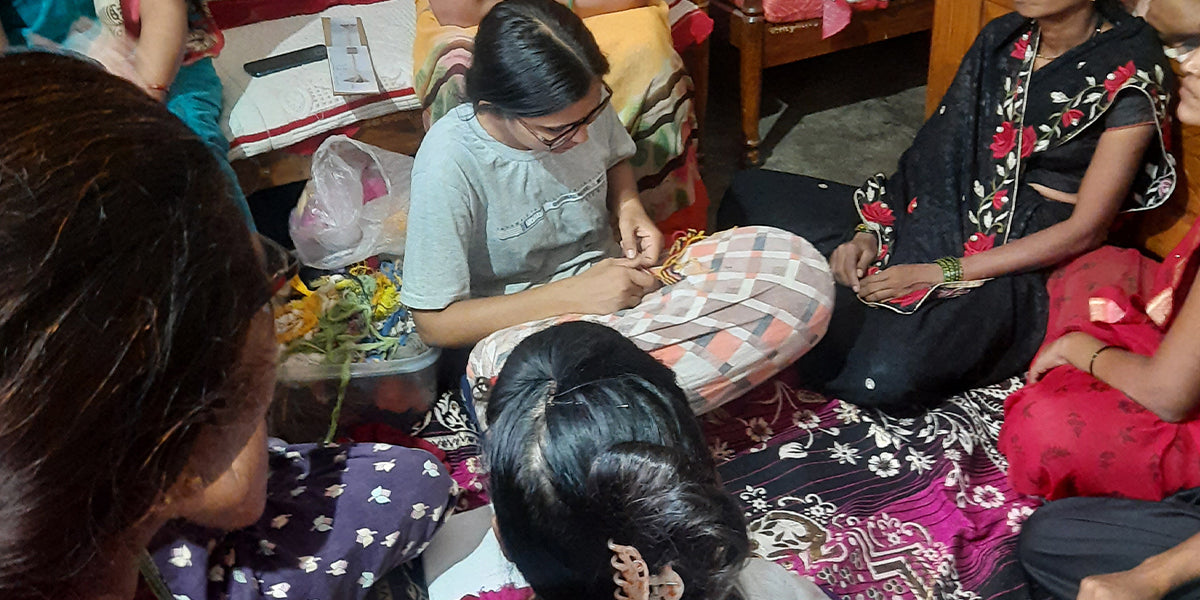 If you are looking for a sustainable and meaningful way to celebrate Raksha Bandhan, a plantable rakhi is a great option. Plantable rakhis are just as beautiful as traditional rakhis, and they come in a variety of colors and designs.
Shipping
Shipping is FREE for all PREPAID orders above Rs 598

ALL COD orders will be charged additional Rs 65 irrespective of the total value.
Returns
We do not offer returns on the products however we issue replacements if there is a concern with the item. For replacements, please write to us on info@bombaygreens.com
Cancellation
Orders once placed through  www.bombaygreens.com cannot be cancelled and no refunds will be made once an order has been successfully placed.
Significance Of The Rakhi Festival & Its Tradition
Rakhi or Raksha Bandhan is celebrated with great fervour throughout the country. It is one of the most popular festivals of Hindus. The festival of Rakhi is observed on the full-moon day of the lunar month of Shravana (Shravana Poornima). This year Rakhi will be celebrated on 30th August 2023.
read more

read less

The festival of Rakhi marks the celebration of the sacred bond shared by a sister and brother. On this day, sisters tie Rakhi on their brother's wrists, apply tilak on their foreheads, perform an arati, and pray for their long life and good health. Raksha Bandhan is a bond of protection wherein, the brother promises to protect his sister and take care of her. On this auspicious festival, brothers also offer gifts to their sisters.

There is one famous instance related to the festival of Rakhi history.

Krishna & Draupadi

When Lord Krishna beheaded Shishupala in the Mahabharata, he sent his Sudarshan Chakra from his finger, which caused him pain. Then, using a scrap of fabric from her saree, Draupadi wrapped his finger. Lord Krishna, who was impressed by her act, vowed to shield her from harm.

Understanding The Necessity For Eco-Friendly Alternatives To Rakhi

With Rakhi around the corner, every brother and sister is excited about surprise gifts and sweets. This is one day when you'll be celebrating the whole day along with your sibling teasing them, playing with them, having brunch and dinner together, etc.

However, with the world moving towards sustainability, people are now getting aware of the importance of eco-friendly celebrations. This year, let's pledge, to celebrate environmentally friendly Rakhi by offering our siblings sustainable Rakhi gifts and choosing a Rakhi made with eco-friendly Rakhi material.

Do you know how much of gift wrap waste goes to landfills and oceans? Every year a whooping amount of 2.3 million pounds of wrapping paper gets dumped in landfills. (1) The numbers are enough to blow off your mind.

This year, on this auspicious occasion of Rakhi, let us come together and buy eco-friendly Rakhi online and biodegradable Rakhi gifts from your favourite online store i.e., Bombay Greens. Gift your loved ones gardening products which will add a charm to their space, while counting as a unique and thoughtful gift. Give them eco-friendly Rakhi gifts such as plant bags, metal planters and organic seeds from us.

We have a wide range of environmental friendly Rakhi, all of which are handcrafted, and come in a number of different designs. Rakhi made from eco-friendly materials is a great way to give back to Mother Earth and strengthen your relationship with your sibling.

Together, let's work to make our world a bit happier and a little greener so that we can all survive. Moreover, keep in mind that by purchasing eco-friendly Rakhi materials and sustainable Rakhi gifts, you are not only helping to preserve the environment but are also improving your brother's health by using natural and organic products.

Protect Your Brother Against Negative Energy with Plantable Evil Eye Rakhi

Ward off evil eyes and all the negative energy from your siblings by placing this plantable rakhi around their wrists. Rakhi is known to bring good fortune, happiness, and positivity to your sibling's life. It is an eco-friendly rakhi alternative that you should consider switching to not only to keep the environment clean but also because it is plantable.

These plantable rakhi gifts are perfect for your siblings that are conscious about keeping the environment clean and those who love to grow things and are invested in caring for plants. Get a unique option of rakhi to celebrate your Raksha Bandhan with love.

Celebrate Rakhi 2023 with Plantable Rakhis of Bombay Greens

Celebrate your Raksha Bandhan with plantable rakhi gifts online at Bombay Greens and experience a new kind of Rakhi celebration. Enjoy this festival with your family there to witness this unique way you can express your love and respect for your sibling(s). Nothing can be more beautiful than showing your care for your sibling and for the environment.

Get this plantable rakhi online with different types of seeds. Choose from the wide variety of plants you want your Rakhi to have like Yellow Blossoms, Blooming Flowers, and many more. These rakhi gift kits come with other fun gardening items like a plant tag, seedling pot, grow card, and of course the Rakhi itself.

Explore the different options available for you at plantable rakhi at Bombay Greens.

Why Choose Bombay Greens For Eco-friendly Rakhi & Other Gardening Needs

Having understood the importance of sustainable Rakhi gifts and eco-friendly Rakhi materials, if you are looking for an online platform to shop for biodegradable Rakhi gifts, Bombay Greens has got you covered.

At Bombay Greens, we work endlessly to make your planting and gardening journey an easy one. We understand your love for growing greens indoors and in gardens, hence our gardening supplies are made to cater to all your needs. From beautiful planters to a variety of seeds and manure fertilisers, we have everything in store you need for a hassle-free gardening experience.

From corporate gifting to eco Rakhi gifts, our wide selection of planting essentials has all that you need for your beautiful blooms. From organic plant fertilizers to flower fertilizers get your hands on the best gardening supplies from us.

Frequently Asked Questions on Eco-friendly Rakhi Gifts

Are eco-friendly Rakhis biodegradable?

Yes, eco-friendly Rakhi gifts at Bombay Greens are biodegradable in nature.

Can I reuse or recycle eco-friendly Rakhis?

Yes, you can reuse and recycle the environment-friendly Rakhi from Bombay Greens.

Can I customise eco-friendly Rakhis according to my preferences?

Eco Rakhi Gifts from Bombay Greens can be customised as per the preferences of the receiver.

What makes plantable rakhi unique?

This eco-friendly rakhi is unique because not only is it made from completely biodegradable materials, it is a plantable rakhi which means you can plant it in your garden. These Rakhis contain seeds that germinate.

Why should we use eco-friendly rakhi?

Eco-friendly plantable rakhi is what you should switch to because rather than keep it locked up somewhere are Raksha Bandhan, you get to make use of it by planting it. This rakhi is perfect to keep our environment clean.