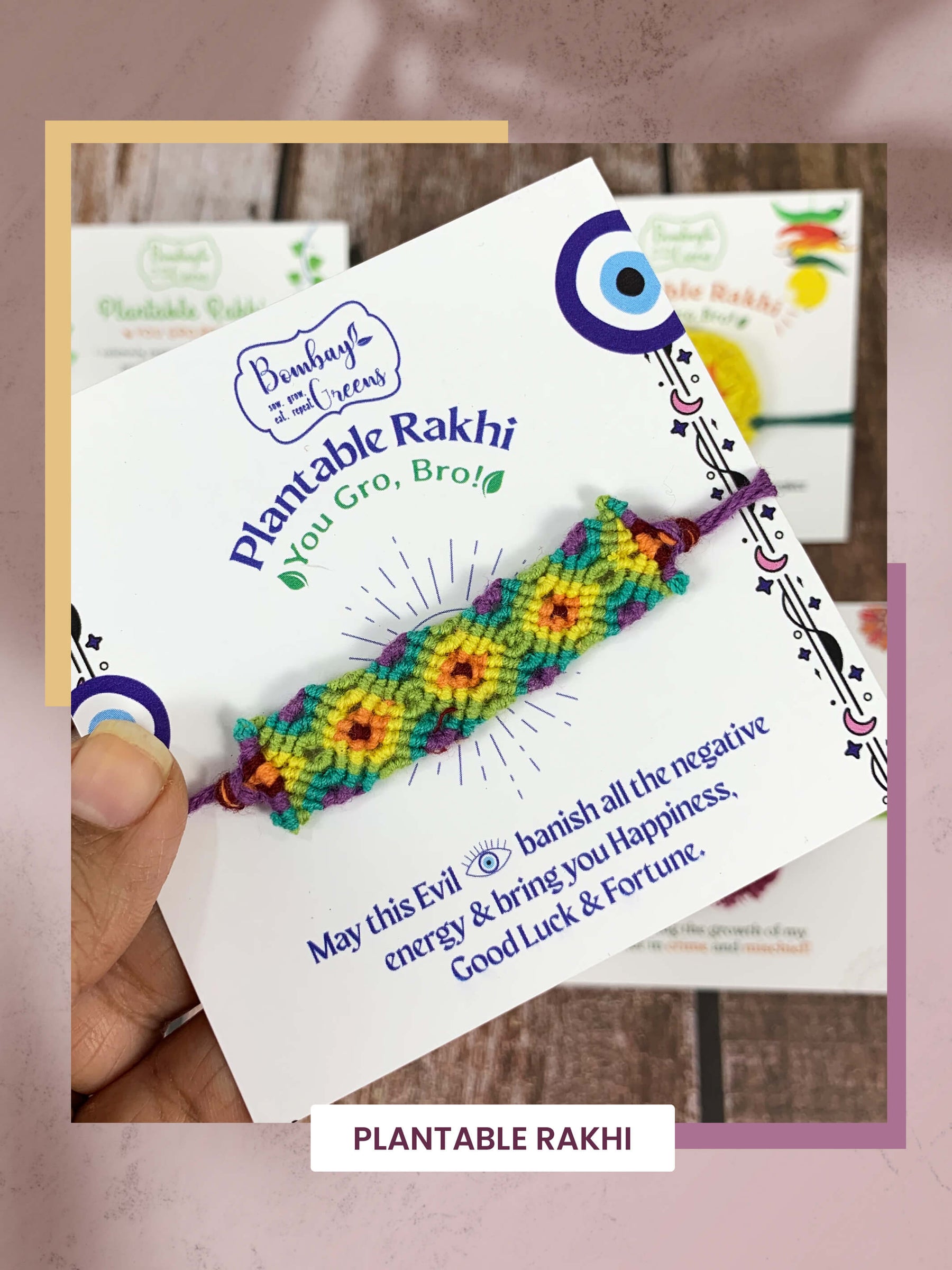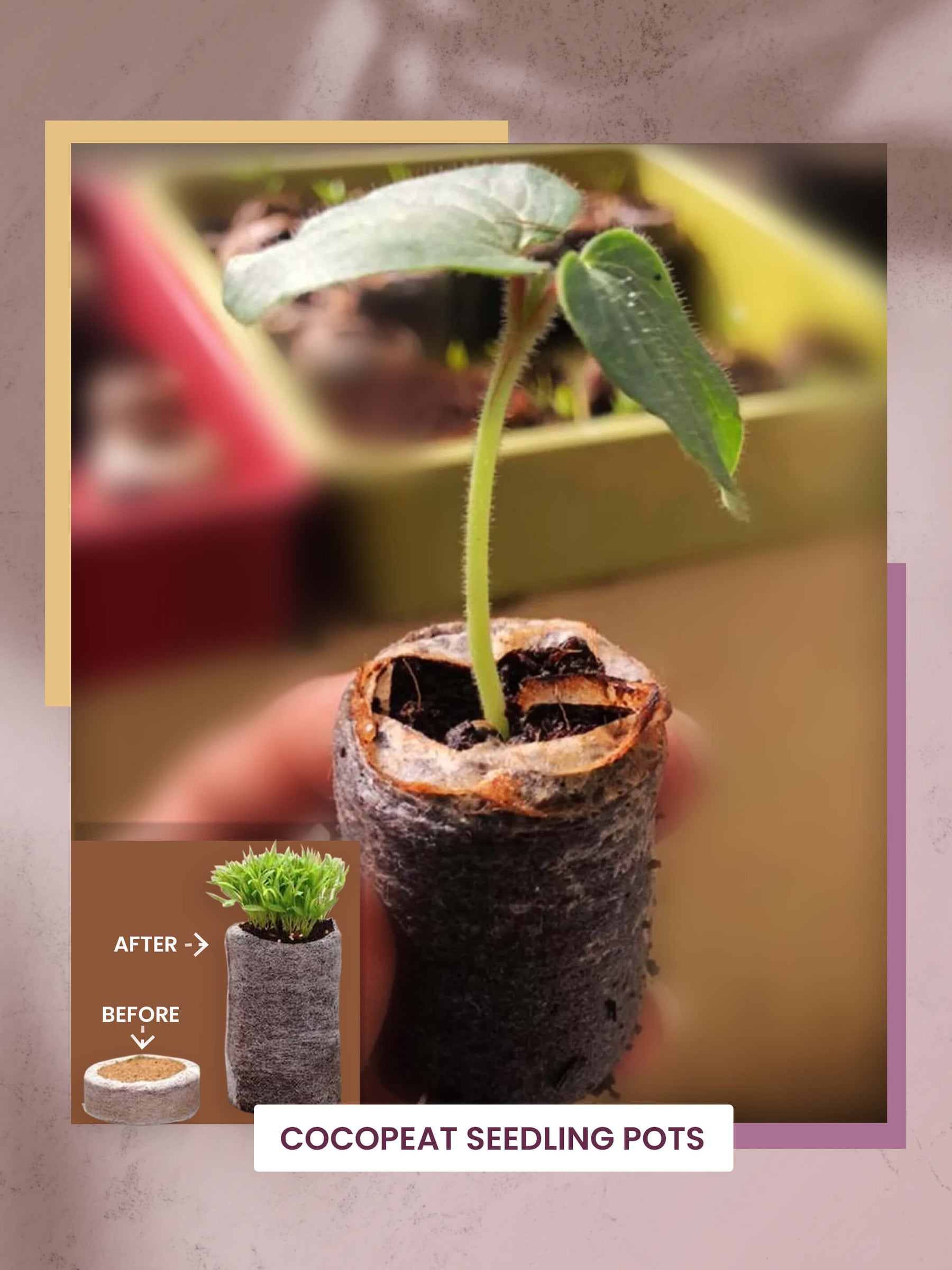 Seed Rakhi Gift Kit- Duo Set (Blooming Flower + Evil Eye)
Inclusive of all taxes
This Rakhi Gift kit Contains
🌿 2 Plantable Rakhis
🌿 1 Steps to grow card
🌿 2 Cocopeat Seedling Pot
🌿 2 Cute Plant Tag
Seeds: Spinach, Amaranth, Purslane, Basil, Pumpkin & Amaranthus
Introducing our Eco-friendly Plantable Rakhi, a beautiful and thoughtful way to celebrate the festival of love and bonding while also contributing to a greener planet. Crafted with care and sustainability in mind, this unique rakhi is more than just a traditional thread; it's a seed of life and growth.

Key Features:
Biodegradable Material: Our plantable rakhi is made from 100% biodegradable and eco-friendly materials. It is crafted from natural fibers, ensuring it leaves no harmful residue in the environment.

Embedded with Seeds: The rakhi itself is embedded with a variety of seeds, such as marigold, basil, or other flowering plants, depending on availability. After the festival, instead of discarding the rakhi, your loved one can plant it in the soil, and with proper care, watch it grow into a beautiful plant.

Handcrafted locally: These Plantable Eco-Friendly Rakhis are hand made with love by rural women self-help groups as part of their livelihood program.
Go Local with the Plantable Rakhis embedded with seeds and support the artists & women community.

Comes with Planting Instructions: To make the planting process easy and successful, the rakhi comes with simple planting instructions. These guidelines will help your sibling or loved one sow the seeds and nurture them into flourishing plants.
Plantable Rakhi Kit:
🌿 2 Plantable Rakhis (Blooming Flower + Evil Eye)
🌿 1 Steps to grow card
🌿 2 Cocopeat Seedling Pot
🌿 2 Cute Plant Tag
Seeds: Spinach, Amaranth, Purslane, Basil, Pumpkin & Amaranthus
Seed Rakhi Gift Kit- Duo Set (Blooming Flower + Evil Eye)
Such a cute rakhi
Loved how the rakhi looks like..mom liked it too..no doubt my brother will love it too.
Best Gift for my brother
I find this gift really wonderful, nice packaging and very cute rakhis
Fantastic Purchase
Nice product and very cute overall package.
Loved it!
Rakhis are really pretty and so cute. Happy with this purchase.
These plantable products have given me a job & helped me support my children's education. It has uplifted my self-esteem & made my life meaningful!
– Bhanu Devi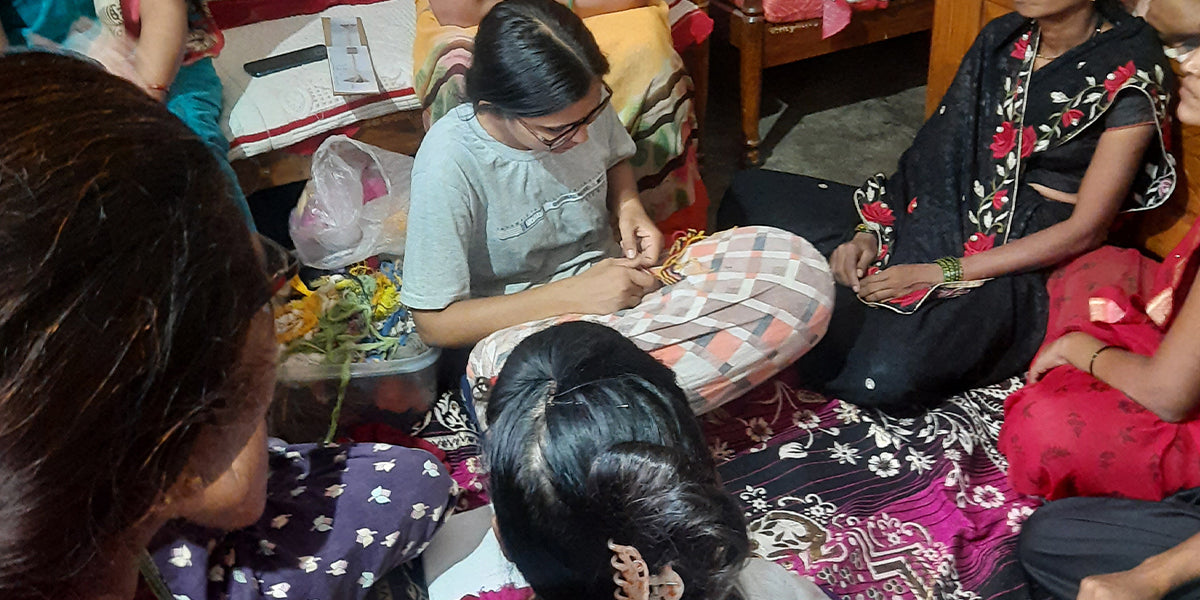 Shipping
Shipping is FREE for all PREPAID orders above Rs 598.
ALL COD orders will be charged additional Rs 65 irrespective of the total value.
Returns
We do not offer returns on the products however we issue replacements if there is a concern with the item. For replacements, please write to us on info@bombaygreens.com
Cancellation
Orders once placed through  www.bombaygreens.com cannot be cancelled and no refunds will be made once an order has been successfully placed.