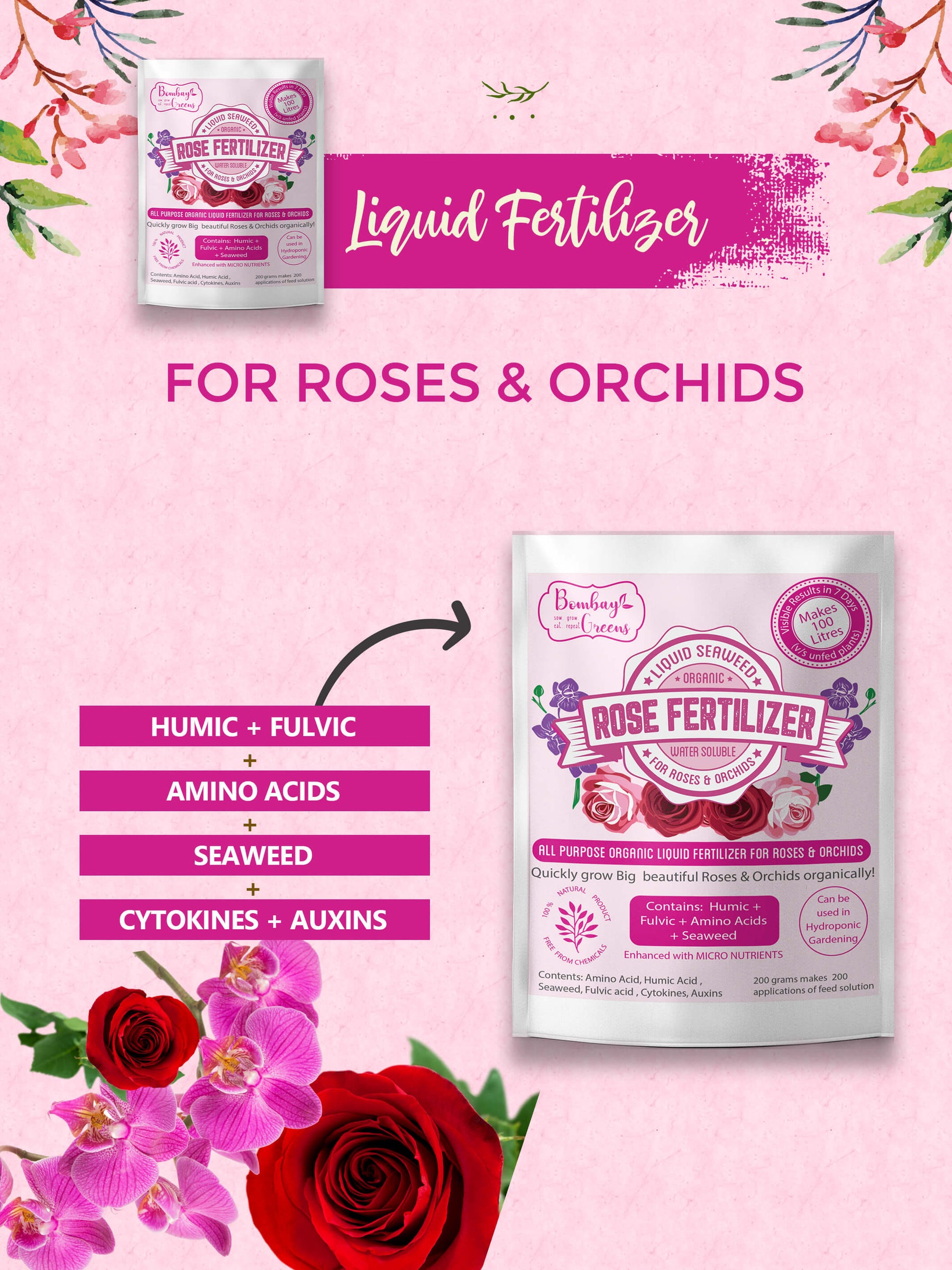 Liquid Organic Fertilizer for Roses & Orchids
Inclusive of all taxes
Select Quantity:
Pack of 1 - Rs. 299
Must-Try BestSellers!😍
Buy any 3 Organic Liquid Fertilizers & Get 1 Tools Kit FREE*. Use code TOOLSFREE *Not valid on combo packs
Visible results in 7 days
2X growth, increased number of buds, bigger flowers & stronger plants.
Useful for all Rose & Orchid Flowers
Organic, all natural, fast release fertilizer that contains Humic Acid, Fulvic Acid, Amino Acid, Seaweed, Cytokines, Auxins and Micro-nutrients.
Don't use chemical fertilizers in your Flower garden. Switch to all natural fertilizer for best results such as deep colors and heavy blooms.
Roses and Orchids need special care than other flowers. They are heavy feeders and appreciate constant supply of nutrients for beautiful yield.
Can be used in Hydroponics system as well as foliar spray also.
Only use it on plants that have minimum 6-8 leaves.
1 packet of 200 grams water soluble fertilizer
- Mix 2 grams in litre of water
- For small pots apply 500ml solution
- For big pots apply 1 litre solution
- Use once in 7 days for a big, bountiful harvest
- Can be used as soil drenching or as foliar spray

200 gm Pack.
1 packet of 200 grams can make 200 applications of solution.
Super Fertilizer
So impressed by the rapid effectiveness of this fertilizer and the easy way it dissolves in water for application. Have ordered for my friends. And it is a pleasure ordering with Bombay Greens. Highly recommended!
Liquid fertilizer for roses and Orchids
It should be good, I am yet to try it
It's amazing.
Really it's amazing. Our roses have started to grow new leaves. Thank you for this product.
"ROSE PLANT FOOD"
I recently purchased rose plant food from Bombay Green . The delivery was excellent. I just put the rose food on my plant and i noticed the effect on my plant after 4 to 5 days. My plants grew well and healthy. It is an excellent product from bombay green. It has many macro and micro nutrients in it. I am very much satisfied with this product.
I use it during rainy season, I doubt if it washed away with rain
FAQs on Liquid Fertilizers
General
If you want to show your roses and orchids as much love as they deserve, our rose mix fertilizer is going to be your best bet. This liquid rose fertilizer consists of Humic acid, fulvic acid, cytokines, amino acid, various micronutrients, and auxins. All these nutrients play an instrumental role in enhancing soil quality, thereby improving flower production.
While using a rose mix fertilizer, it is imperative to use the fertilizer in the recommended quantity and manner. The correct manner of application will ensure a bountiful harvest. You can read about the directions for use on our website or on the fertilizer pack to use this product judiciously.
It is safe to use this organic rose fertilizer for other plants as this product contains natural ingredients that won't bring about any harm to your plants. Having said that, it is important to note that different plants have different nutritional requirements, and hence you should do your due diligence in finding out about the specific needs of different plants before using the same fertilizer for them.
You can use this rose fertilizer to fertilize your rose plants once a week. You can adjust the quantity of the product as per the size of the plant. You can read the directions to know about the correct manner of use.
It is advisable to fertilize your roses in early spring when the flowers are just starting to bloom. You should use it regularly to provide the essential nutrients to the plant.
While choosing a rose fertilizer, you can check out the nutrient contents of the fertilizer and see if that resonates with the requirements of your rose plant. You can also choose a fast-release fertilizer for quick results. An organic rose fertilizer is certainly preferred over a synthetic one. The form of the fertilizer, liquid, granular, and powder will also have a bearing on your choice. You should choose a product that is convenient for you to use and suits your plant's needs as well.
You will be able to see positive results within a week of using this liquid rose fertilizer. However, the health of your plant, environmental factors, and the precision with which you will follow the instructions for usage will affect the quantity of results.
Yes you can use it at half strength.
For hydroponics we suggest you contact the system provider. Our normal dose is 2 grams in one litre of water.
Yes it is good for adenium
Derived from Organic Seaweed along with Humic Acid, Fulvic Acid and Amino Acids
Yes it promotes new buds and increases the size of flowers. Also helps in reducing dropping of flowers.
Yes it is safe for human and pets. And 100% chemical free.
Shipping
Shipping is FREE for all PREPAID orders above Rs 598.
ALL COD orders will be charged additional Rs 65 irrespective of the total value.
Returns
We do not offer returns on the products however we issue replacements if there is a concern with the item. For replacements, please write to us on info@bombaygreens.com
Cancellation
Orders once placed through  www.bombaygreens.com cannot be cancelled and no refunds will be made once an order has been successfully placed.
Danke Group
Flt-3 Salasar Kutir, 60 Feet Rd, Bhayandar (W), Mumbai-401101
Customer Care Phone - +91 8928494885
Customer Care Email - info@bombaygreens.com