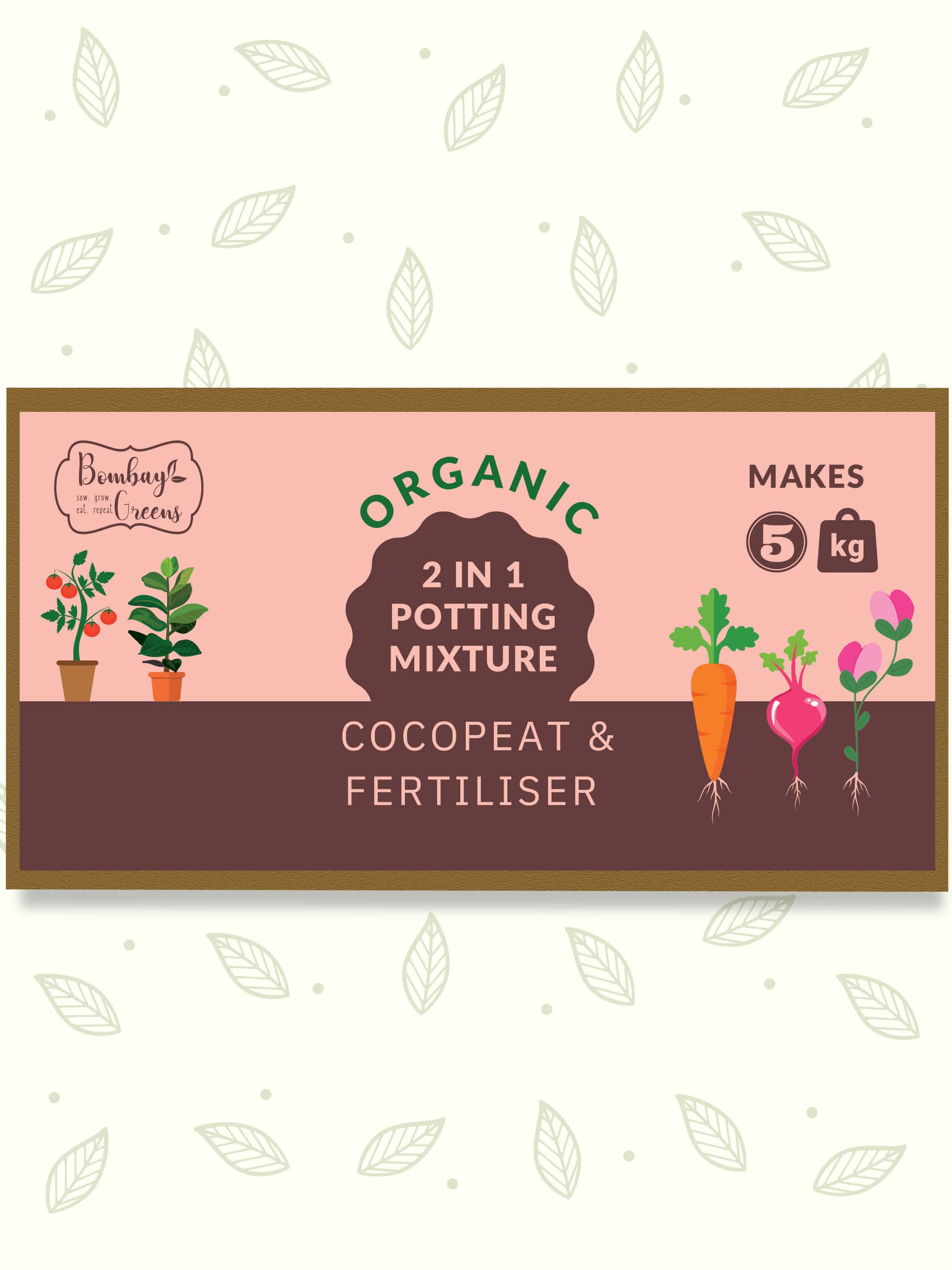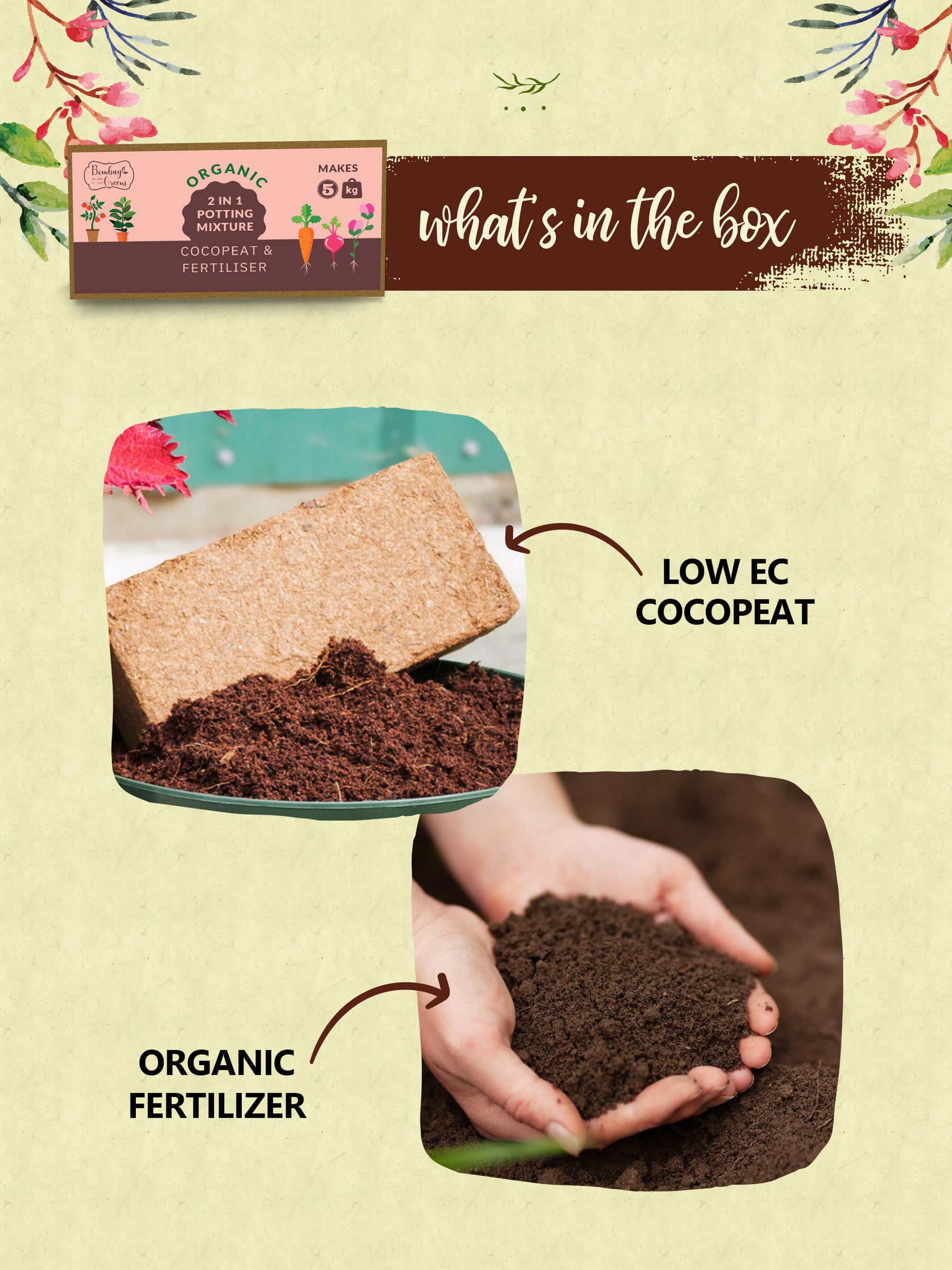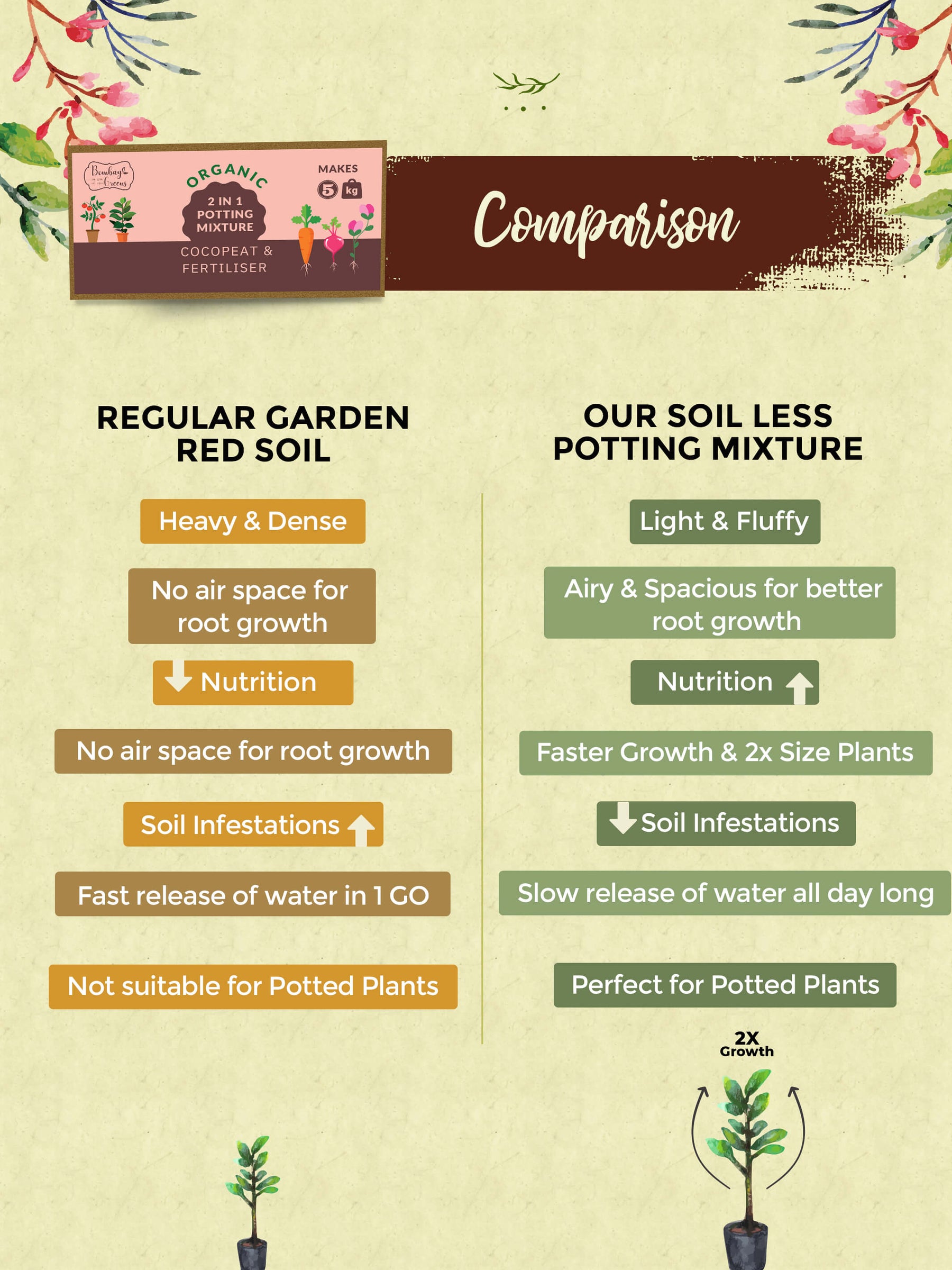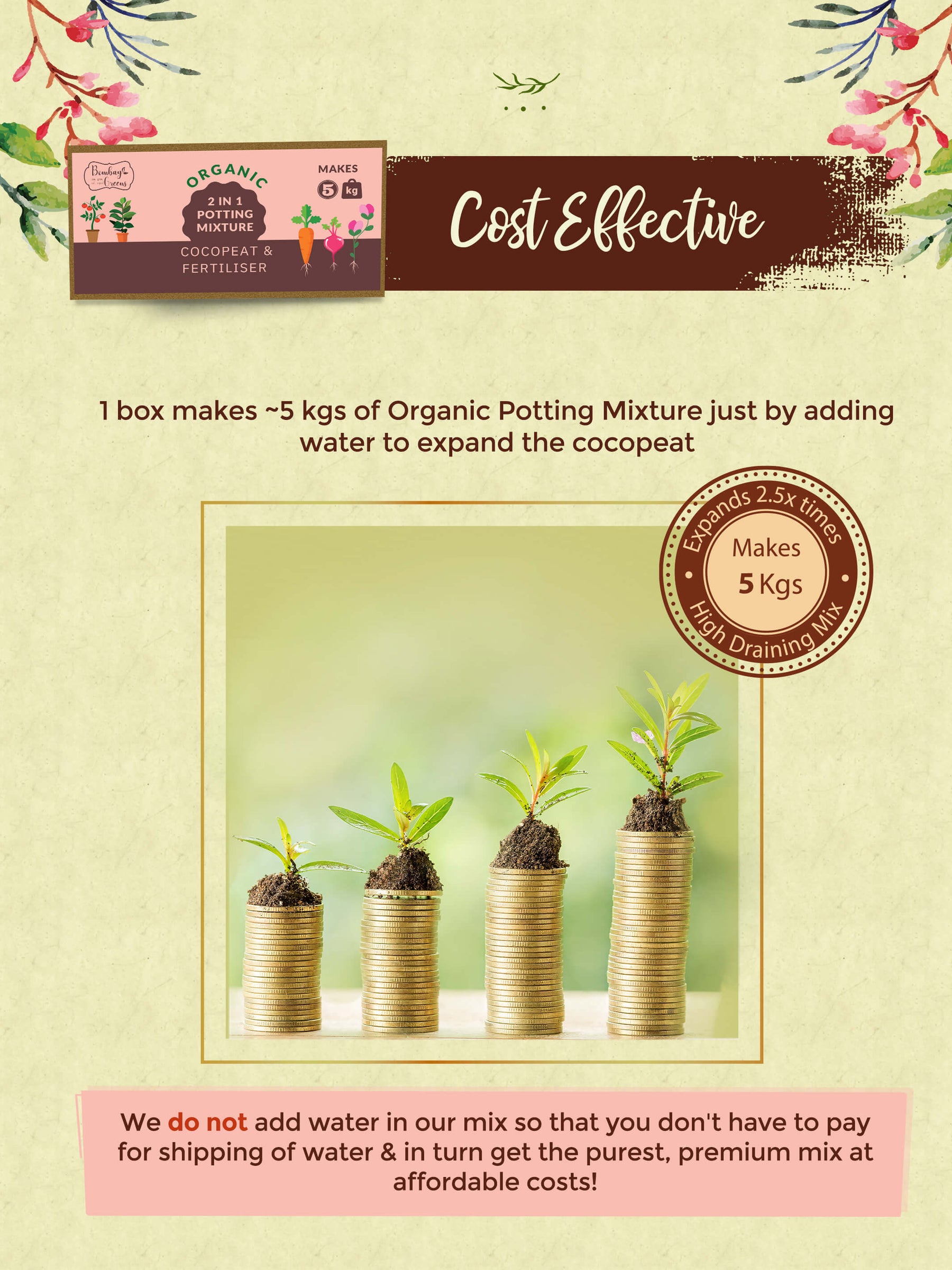 2 in 1 Soil less Potting Mix with Cocopeat & Fertilizer
Inclusive of all taxes
Soil Less 2 in 1 Mixture
Makes 5 kg of Potting mix for Home gardening. Contains Low EC Cocopeat, Organic Fertilizer Compost. Great alternative to garden soil or sand for plants in containers
Grows up to 2X bigger plants than potting soil. Creates 90% more air space than traditional mitti.
Light, Fluffy and High draining pot mix. Better root growth and full of nutrition and microbes. Reduces weight of pots by 40% compared to red soil or mud.
Releases water slowly throughout the day. Great for all vegetables and flowers.
100% Organic. No synthetic chemicals used in any of the ingredients. Perfect for home gardeners. Ships right to your door in a lightweight package, so no heavy lifting.
Contains: 1 Block of Cocopeat & Organic Fertilizer.
1. One box makes 5 kgs potting mix ONLY after adding water to the Cocopeat block.
2. We ship both ingredients in dry form so that you receive pure & unadulterated Potting Mix.
3. You need to add water & mix them to make final 5 kgs Soil Less Potting Mix.
4. Our 1 Box is of around 2 kgs in weight which contains expandable cocopeat block, exfoliated vermiculite, Neem Powder & Organic fertiliser. Once you add around 3-3.5 litres of water and mix all the items, then you will get a final mixture of 5 Kgs.
5. Watch our video to know the process of making out Potting Mix.
STEP 1: Take cocopeat block and put in a tub. Add around 3-3.5 litres of water to expand the cocopeat. Don't add water in one go. Add around 80% of water and the remaining as per your requirement. Break the block with your hands and let it expand completely. 
STEP 2: After a few minutes once cocopeat has expanded completely, add the remaining item - Organic Fertilizer and mix them completely. 
STEP 3: Fill up your grow bags or pots with this potting mixture. This mix can be used for all vegetables, fruits, flowers, indoor plants etc. If you want to store the unutilized potting mixture you can keep it in any container, just ensure it is moist so that the microbial activity is alive. You can keep adding little water every few days to keep it moist.
Quantity and quality
Good quantity at such an amazing price. Thank you, Bombay Greens.
quality is very good
The quality good Light, Fluffy and High draining
Cocopeat
Excellent product. Compression is very good for storage. Best for any type of gardening.
Gardening Essentials you might need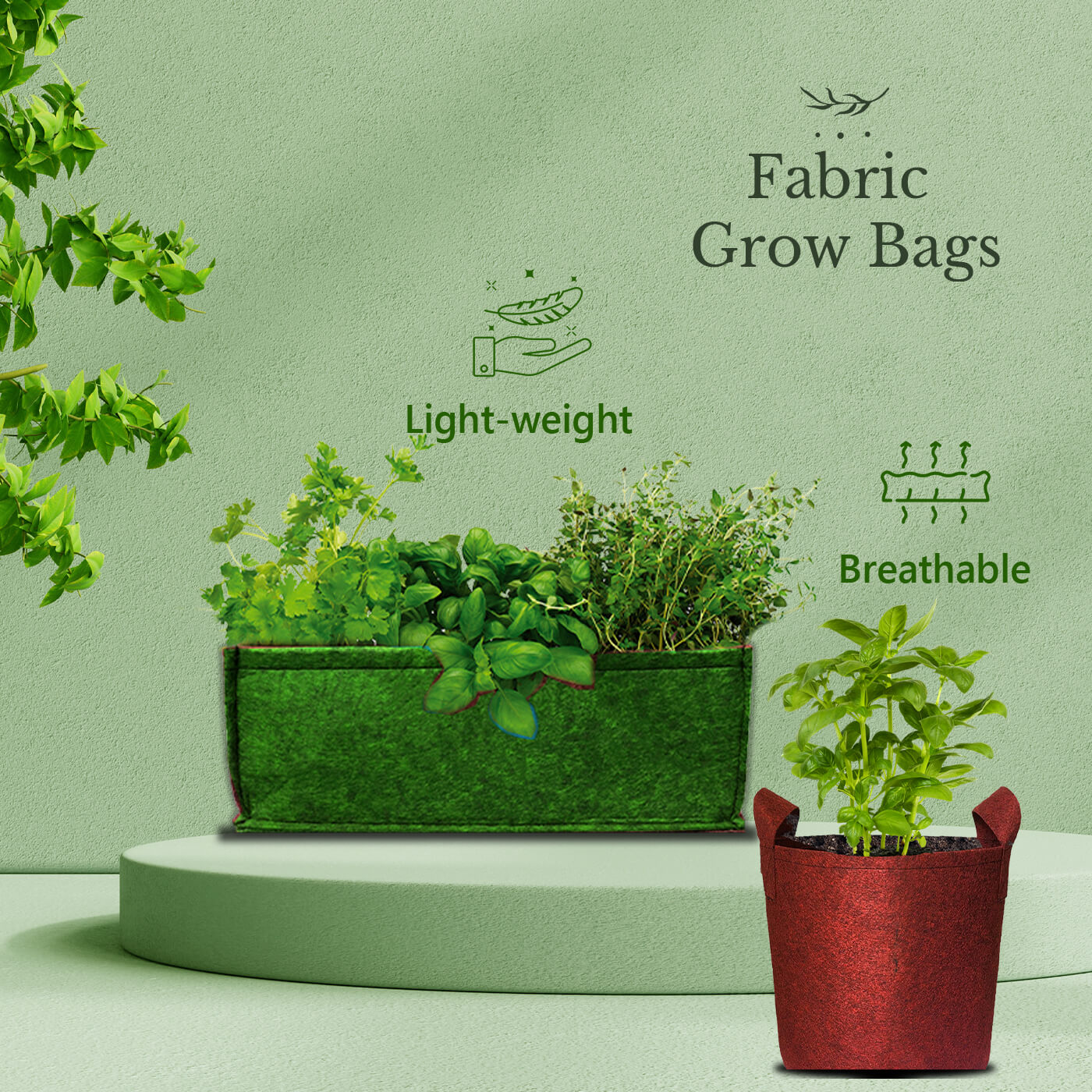 Eco friendly Grow bags
- Sustainable Growing Option - Made from Recycled Plastic & Geo Fabric, grow bags are a cleaner alternative than plastic grow bags or traditional pots.
- Breathable Fabric - Keeps the soil temperature cool & provides immense air circulation.
- Prevents Root Bounding
- While growing in grow bags, when the roots reach the wall of the grow bag they are burned off, which causes the plant to produce new healthy roots that branch off the original ones.
Organic Liquid Fertilizers
1. 100% organic
2. Visible results in 7 days
3. Water Soluble Fertilizer
4. 2x Plant Growth
My go to brand for my gardening needs. Since the day I came across this brand, I've been a fan of it.
- Avani
I'm a huge fan of this soil less potting mix... it's very beneficial for my plants.. Thank u bombay greens...❤🥰
- Gargi
I have been using potting Mix and Liquid fertilizer from Bombay Greens and they are really superb.Thank you Bombay Greens. ❤️
- Suruchi
Seed Gardening Packs
A fun way to grow plants!
Our Seed Packs is the most easy way to get started with Gardening. It is perfect as gardening gifts for birthday parties, weddings or corporate gifting.
Fun gardening kits for kids and adults both.

The Seed Packs includes :
• 1 Pack of Seeds
• 1 Eco-Friendly Reusable Cotton Pouch
• 1 Quirky Plant Tag

Let's make gardening fun & easy!
Growing plants at home has never been this easy!
Our DIY Gardening Kits include everything you need to grow 3 Healthy plant varieties! Grow kit is perfect as gardening gifts for birthday parties, weddings or corporate gifting. Fun gardening kits for kids and adults both.
The Terrace Kit includes :
• 3 Seedling pots
• 3 Varieties of Seeds
• Cocopeat Discs
• Organic plant food
• Plant tags
• Grow guide

Let's make gardening fun & easy!
FAQs on Organic Potting Mixture
General
Soil-less potting mix is lighter and fluffier than regular garden soil. The airy and spacious cocopeat soil-less potting mix allows the roots to grow properly and ensures faster growth of the plant. It also allows a slower release of water all day long. This soil-less mix can reduce the weight of your pot by 40% as compared to red soil or mud. This cocopeat potting mix is 100% organic.
Regular garden soil is usually heavy and dense with very less air space in between for the roots to grow. Whereas soil-less potting mix is light and fluffy which allows more space for the roots to grow.
Regular garden soil is prone to soil infestation whereas Bombay Greens Soil-less Potting Mix has lesser chances of soil infestation.
Because regular potting soil is densely packed it releases water faster, however, our soil-less cocopeat potting mix is airy and fluffy which allows a slower release of water throughout the day. In this way, the soil is moist for a longer time.
You can use regular soil mix for your outdoor garden whereas soil-less potting mix is suitable for potted plants in your indoor garden.
Yes, you can. You can use organic fertilizers with this cocopeat mix for both indoor and outdoor plants in your garden. Please read the instructions and usage manuals for organic fertilizers.
Bombay Greens cocopeat soil-less potting mix is 100% organic with no chemicals. It also doesn't contain any wood chips, stones, charcoal chips or coconut chips. 
The weight of the mixture will be 5 kgs after adding water. Our potting mix fills 7 pots of 6 inches size.
No, you don't have to mix red soil. The mixture is complete on its own. This is a complete formulation for potted plants with properties such as nutrition, retaining moisture, draining moisture and anti fungal benefits.
Yes, you can store the unused mixture in any pot, container or bag. It will NOT go bad provided it has little moisture at all times.
Yes this is 100% organic with no fillers and only natural ingredients.
Yes it can be used for all the plants in pots. You may use it for transplanting, for seed germination or for topping up on new plants.
You need to add river sand to the mixture and then you may use it.
Shipping
Shipping is FREE for all PREPAID orders above Rs 565.
ALL COD orders will be charged additional Rs 65 irrespective of the total value.
RETURNS
We do not offer returns on the products however we issue replacements if there is a concern with the item. For replacements, please write to us on info@bombaygreens.com
Cancellation
Orders once placed through  www.bombaygreens.com cannot be cancelled and no refunds will be made once an order has been successfully placed.
Danke Group
Flt-3 Salasar Kutir, 60 Feet Rd, Bhayandar (W), Mumbai-401101
Customer Care Phone - +91 8928494885
Customer Care Email - info@bombaygreens.com