Geo Fabric Grow Bags
🌿Grow Vegetables, Fruits, Flowers & all other plants. Suitable for Terrace or Container Gardening 🌿
Eco-Friendly Breathable Fabric

Handcrafted by Women Artisans

Easy to lift with sturdy handles

Easy to Transplant, Very Light Weight

Easy Drainage & No need of holes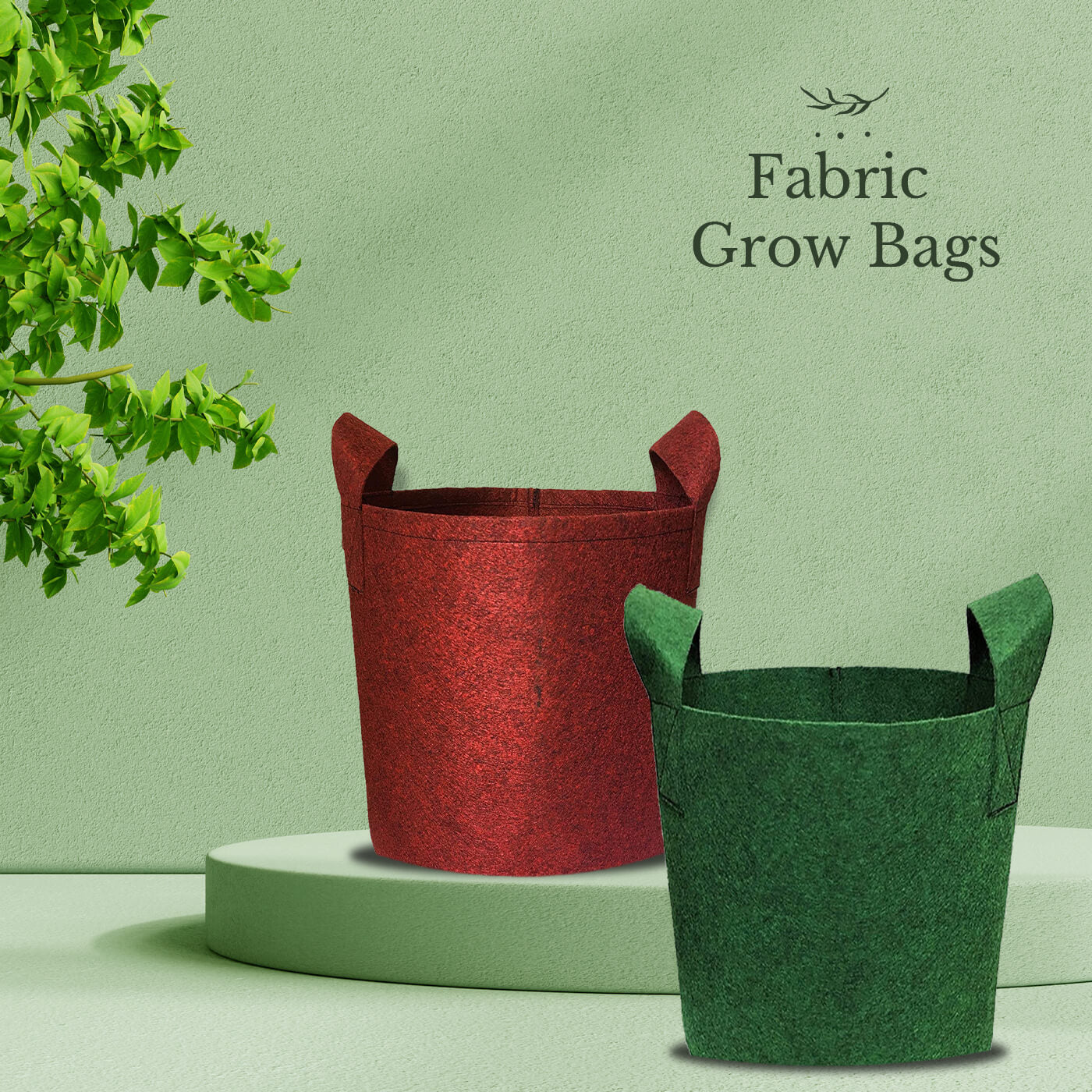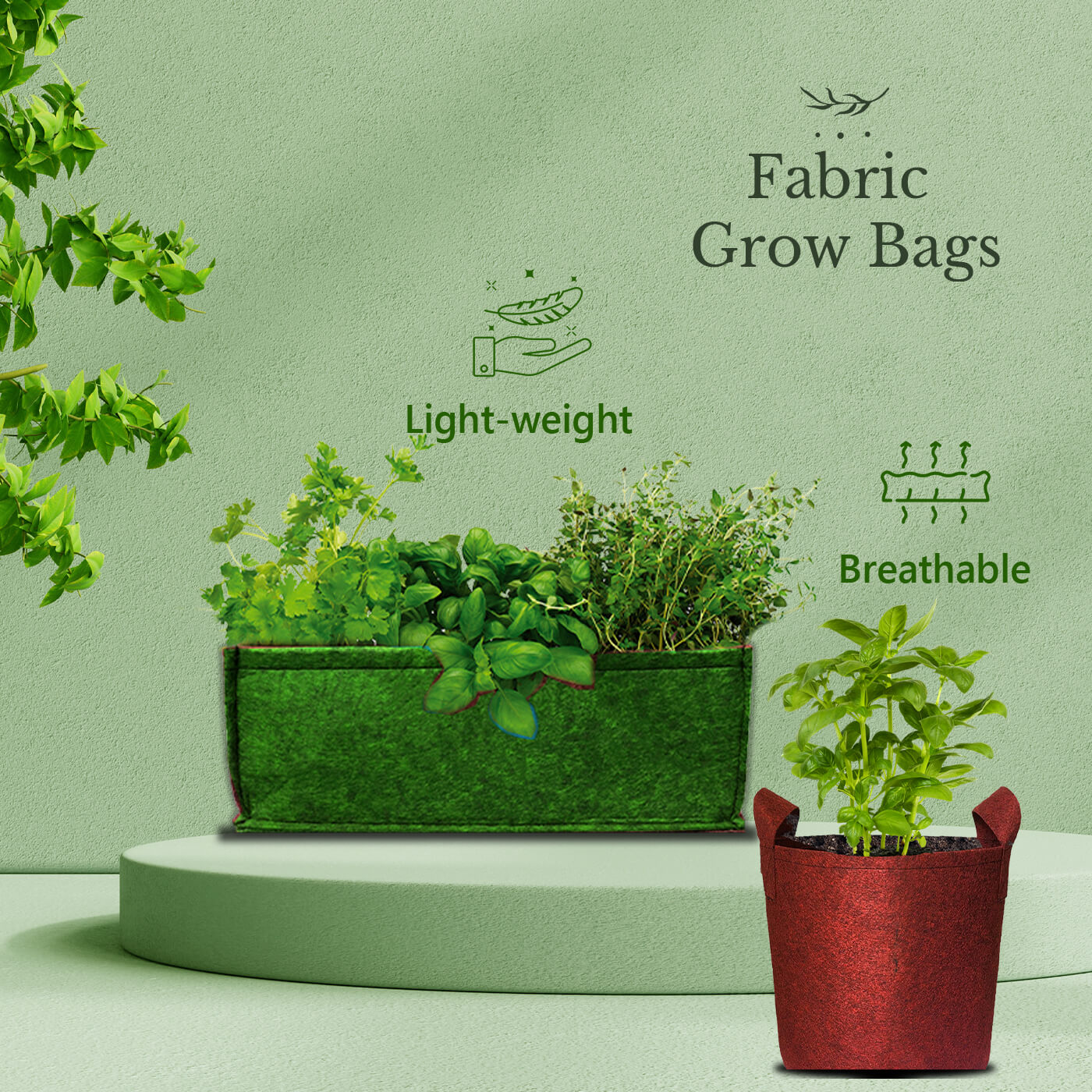 Sustainable & Great for Roots
- Sustainable Growing Option - Made from Recycled Plastic & Geo Fabric, grow bags are a cleaner alternative than plastic grow bags or traditional pots.
- Prevents Root Bounding - While growing in grow bags, when the roots reach the wall of the grow bag they are burned off, which causes the plant to produce new healthy roots that branch off the original ones.
Light Weight & Breathable
- Light-Weight & Easy to lift - Fabric makes the grow bag lighter than plastic or terracotta pots and helps in moving your plants around.
- Breathable Fabric - Keeps the soil temperature cool & provides immense air circulation.
- No Need to Drill Holes - As the fabric is breathable in nature, you don't need to drill holes. Water drains out on its own from the bags.
Let customers speak for us
Diwali Hamper
Eco-Friendly Cracker Box contains:
• Chakri- Seeds embedded: Onion Seeds
• Anar - Seeds embedded - Golden Shower Tree
• Colourful Artisan Ceramic Diyas
• Tea Light Candles
• Incense Cone Pack
Aesthetic Metal Planter
Infuse your home decor with vibrancy using this gorgeous Metal Planter
Sturdy metal with an attractive polish
Minimalistic Design
Perfect for the living room, bathroom, patio, balcony or besides your sofa!
Organic Soil Less Potting Mix
Benefits :
• 2x plant growth
• 4 in 1 mix (Cocopeat, Vermiculite, Fertilizer, Neem cake)
• Light & Fluffy Mixture
• Perfect for potted plants
Cute and Vibrant Metal Watering Can
Cute & colorful watering cans
Extended spout design makes it spill free, keeping you dry and mess-free in the process.
Durable strength with high quality galvanized iron sheet
Organic Liquid Fertilizers
1. 100% organic
2. Visible results in 7 days
3. Water Soluble Fertilizer
4. 2x Plant Growth
Gardening Seed Kits
A fun way to grow plants!
Our Seed Packs is the easiest way to get started with Gardening. It is perfect as gardening gifts for birthday parties, weddings or corporate gifting.
Let's make gardening fun & easy!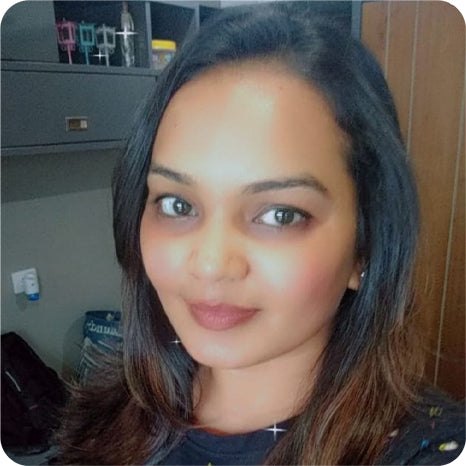 My go to brand for my gardening needs. Since the day I came across this brand, I've been a fan of it.
- Avani
I'm a huge fan of this soil less potting mix... it's very beneficial for my plants.. Thank u bombay greens...❤🥰
- Gargi
I have been using potting Mix and Liquid fertilizer from Bombay Greens and they are really superb. Thank you Bombay Greens. ❤️
- Suruchi
The grow kits offered are a fun DIY..
Cheers to BOMBAY GREENS for my beautiful plants.
-Chetan Soni
Watch this video on
How to use the grow bags
FAQs on Geo Fabric Grow Bags
General
Fabric grow bags are just what they sound like – a bag that you can grow plants in. They are made from a thick breathable fabric, similar to a reusable grocery bag. Grow bags are well aerated and have superior drainage over traditional plastic pots.
Bombay greens' grow bags are made from an environmentally friendly geo fabric which is made from recycled plastic. These grow bags have enough room to allow the roots to grow and the material provides excellent air permeability and aeration. These sustainable grow bags are expandable and provide good drainage which helps the plants to grow in a healthy and strong way.
Our grow bags are made from sustainable and eco-friendly materials like geo fabric and recycled plastic. These bags also have a lot of compatibility with different soils, soil less mixtures and compost.
Yes, these grow bags are very useful for terrace gardening because they are lightweight, easy to lift and the fabric of these bags makes them an excellent choice to grow vegetables, fruits, plants and flowers of one's choice. Moreover, when the roots of the plant touch the base of the bag they get burned off, and then the plant produces fresh new roots. This process is called air pruning and it is very beneficial while terrace gardening. In addition to that, the air permeability and exceptional drainage system make these grow bags a preferred option for terrace and indoor gardening.
- Grow bags are made of breathable fabric which provides superior drainage and aeration. It is the aeration that makes them preferable to most other garden containers.
- Root bounding does not occur with grow bags. Instead when the roots reach the wall of the grow bag they are burned off, which causes the plant to produce new healthy roots that branch off the original ones. This is known as "air-pruning". In pots, the roots of the plants tend to grow in circles entangling themselves. This increases the likelihood of having oxygenation or water stagnation issues, especially in larger pots that lack proper drainage.
- During the heat of summer and in direct sunlight plastic pots can get quite hot.  Since they are not breathable, they trap all the heat which can cook your plants. Fabric bags regulate temperature due to their breathable quality.  Excess heat can escape from all sides of the grow bag.
Fabric grow bags are made from recycled plastic and fabric mixed together having a thickness of 400 gsm which makes them extremely durable.
Our grow bags will stay good for three to five years with proper care and you can re-use them as many times as you want, depending upon the manner in which you use and maintain them.
Yes. These grow bags can be washed in cold water with a mild cleansing agent. We suggest that you let these grow bags flat air dry.
As the fabric is breathable in nature, you don't need to create holes. Water drains out on its own from the bags.
No, you do not have to put rocks in the bottom of grow bags. These bags have a great drainage system, and the fabric aids good air permeability. Therefore, you won't have to add anything beneath them.
Our plant bags come in eight sizing options: including sizes like 6 x 6 inches, 8 x 8 inches, 10 x 10 and 12 x 12 inches, 15 x 15 inches, 18 x 18 inches, 18 x 7.5 x 5 inches.
Shipping
Shipping is FREE for all PREPAID orders above Rs 598

ALL COD orders will be charged additional Rs 65 irrespective of the total value.
Returns
We do not offer returns on the products however we issue replacements if there is a concern with the item. For replacements, please write to us on info@bombaygreens.com
Cancellation
Orders once placed through  www.bombaygreens.com cannot be cancelled and no refunds will be made once an order has been successfully placed.
Bombay Greens Geo Fabric Grow Bags for your Vegetables, Fruits and Plants
Bombay Greens Geo Fabric Grow Bags for your Vegetables, Fruits and Plants
If you are as fond of greenery as much as we are, these planter bags are going to greatly appeal to you. Grow bags for gardening are a super functional product for all those who wish to maintain a beautiful indoor or outdoor garden. Grow bags can be defined as containers that facilitate the growth of plants by establishing a conducive ecosystem of the roots, the plants and the soil. They are made from a lightweight and breathable material that allows the plants to grow in an optimum, eco-friendly and sustainable manner.
read more

read less

Benefits Of Using Organic Plant Bags from Bombay Greens

A number of benefits can be attributed to investing in grow bags for gardening. Some of those benefits are as follows:

Our grow bags for plants are made from lightweight fabric and they are much lighter than terracotta or plastic pots. This allows you to easily move them from one place to another. Hence, if you wish to grow some green plants on your windowsill or put together a cute little garden in your nursery, these are the best grow bags for you.

Our planter bags are made from recycled plastic and Geo fabric which is a much better alternative to traditional planters or plastic grow bags. This won't just bode well for the environment but prove beneficial for the plants you grow as well.

It Prevents Circling Of Roots

When the roots of the plants growing in these bags reach the surface, they are burned off/pruned and in turn new and healthy roots take their place.

You Won't Have To Drill Holes In These Bags

These vegetable grow bags are made from breathable material that facilitates proper air circulation around the roots and keeps the soil temperature in check. Therefore, there won't be any need for you to drill holes in these bags to promote air circulation.

Nutrient Management in Plant Grow Bags

Fabric plant pots allow you to control the quality and type of nutrients your plant receives. At first, they are clean and empty because they do not contain anything. It is up to you to fill it with bags or containers with a healthy growing medium that allows you to create an ideal condition for growing your plants.

Therefore, in using gardening bags to plant, you're making it easier to manage the condition that your plants grow in, giving them the best quality of soil and fertilizer that would help them grow. Hence, grow bags help a lot with nutrient management.

How To Choose The Right Planter Bags For Your Plants

Our plants, flowers, and vegetable grow bags are available in various sizes and color options. In addition to the material, you should also look for a grow bag that is big enough to accommodate the roots of your desired plant. Furthermore, you should also check for the location at which you want to put the grow bag in order to make the right choice. Here are some tips to help you find the right garden bags.

Size of the grow bags:

Depending on the type of plant you want to grow in the garden bags, check out what the guidelines are on the spacing for that particular plant. Below is the guide to help you figure out what size to use for whatever you want to grow in your grow bags for common fruits, vegetables, and herbs.

For extra small grow bags that can hold 7.5 liters of soil, you can grow your herbs like rosemary, sage, basil, and thyme. You can also grow vegetables like radishes, kale, lettuce, green onions, chard, and arugula.

For a small grow bag that can hold 11 liters of soil, you can grow herbs like cilantro, dill, and parsley. You can also grow fruits and vegetables like carrots, kohlrabi, strawberries, beets, and celery.

For medium-sized grow bags that can hold 19 liters of soil, you can grow herbs like ginger, lemongrass, and turmeric. You can also grow vegetables like broccoli, beans, okra, eggplant, cabbage, cucumbers, potatoes, and peppers.

For large grow bags that can hold 38 liters of soil, you can grow tomatoes and sweet potatoes.

For

gardening bags

that can hold more than 38 liters of soil, they are best for most types of vegetables.

Fabric of the grow bags:

Go for fabric plant bags that are made from breathable material or fabric. This allows air circulation and also promotes the development of healthier roots, prevents excessive moisture retention which prevents the roots from being waterlogged. It also provides excellent drainage crucial for plant growth. The materials should also be portable, lightweight, and easy to store.

Techniques used to grow plants in grow bags

At the center of the grow bag, dig a small hole and place the seed or seedling in the hole. Remove any air pockets by gently firming the soil around the seed. Now, place the gardening bag in the sun and ensure that the seed/plant gets at the very least 5 to 6 hours of direct sunlight every day.

Why is Bombay Greens An Ideal Place For Your Gardening Needs?

Bombay Green is anchored to the vision of enabling people to grow their own vegetables, fruits and plants irrespective of space constraints. Our product mix consists of grow bags, plant fertilizers, rose fertilizers, metal plant stand, indoor gardening kits, potting soil etc. We are here to provide you with a wide range of functional and sustainable essentials to set your gardening dreams in motion.

FAQs on Grow Bags

Are these planter bags suitable for all types of plants?

Our grow bags are suitable for a wide variety of herbs, flowers, and plants but it would be advisable to consult a knowledgeable horticulturist to know about the nutrient, soil and space requirements of different plant varieties. This will help you in picking out the best grow bags as per your needs.

Can I use this planter bag for indoor and outdoor plants both?

Yes. These plant bags are safe for indoor and outdoor usage. However, you should ascertain the requirements of the plants that you are growing and accordingly set up these grow bags at an ideal location.

What materials are used in these grow bags?

These grow bags for gardening are made from recycled plastic and Geo fabric which make these planter bags sustainable for the environment.