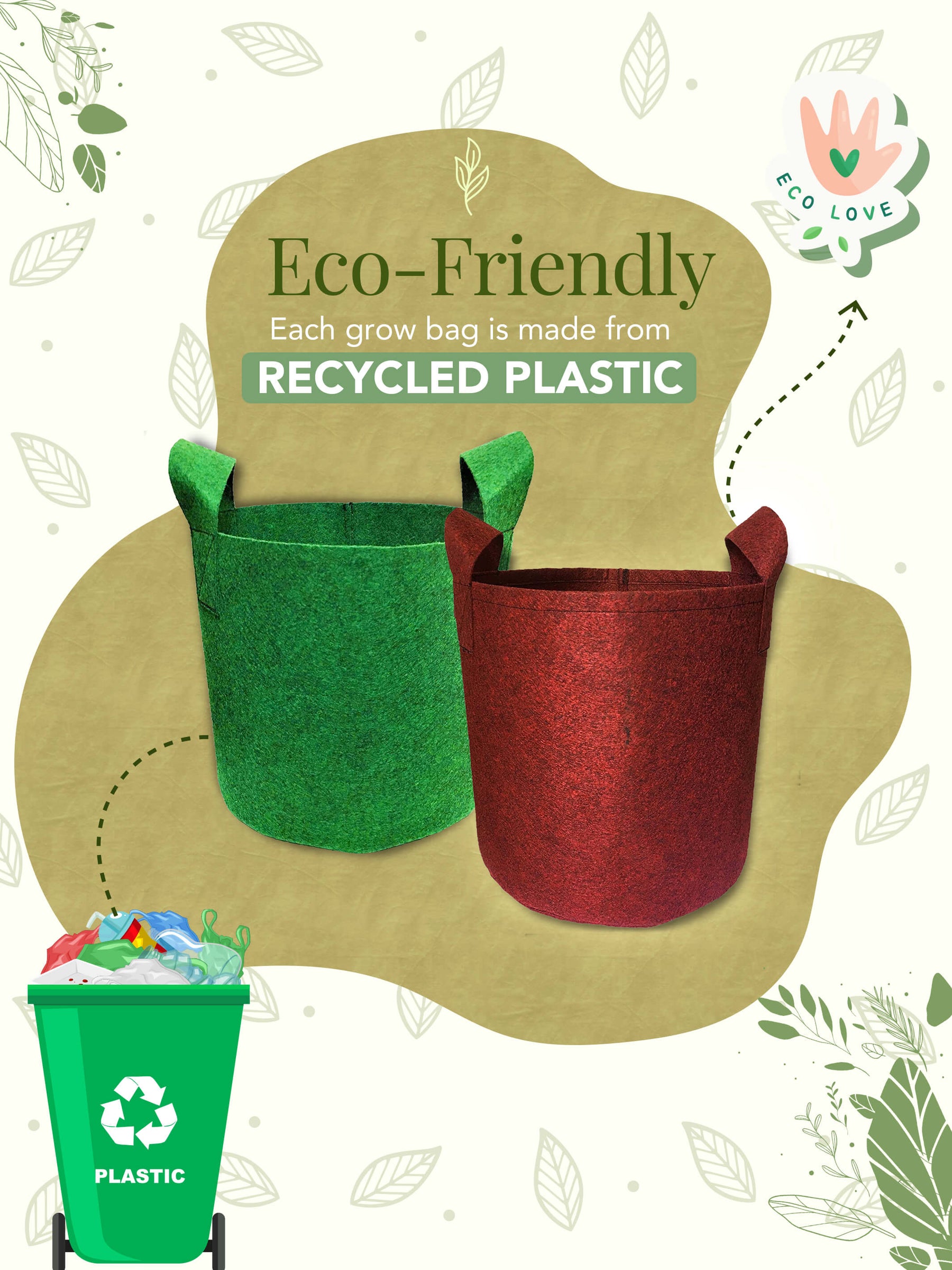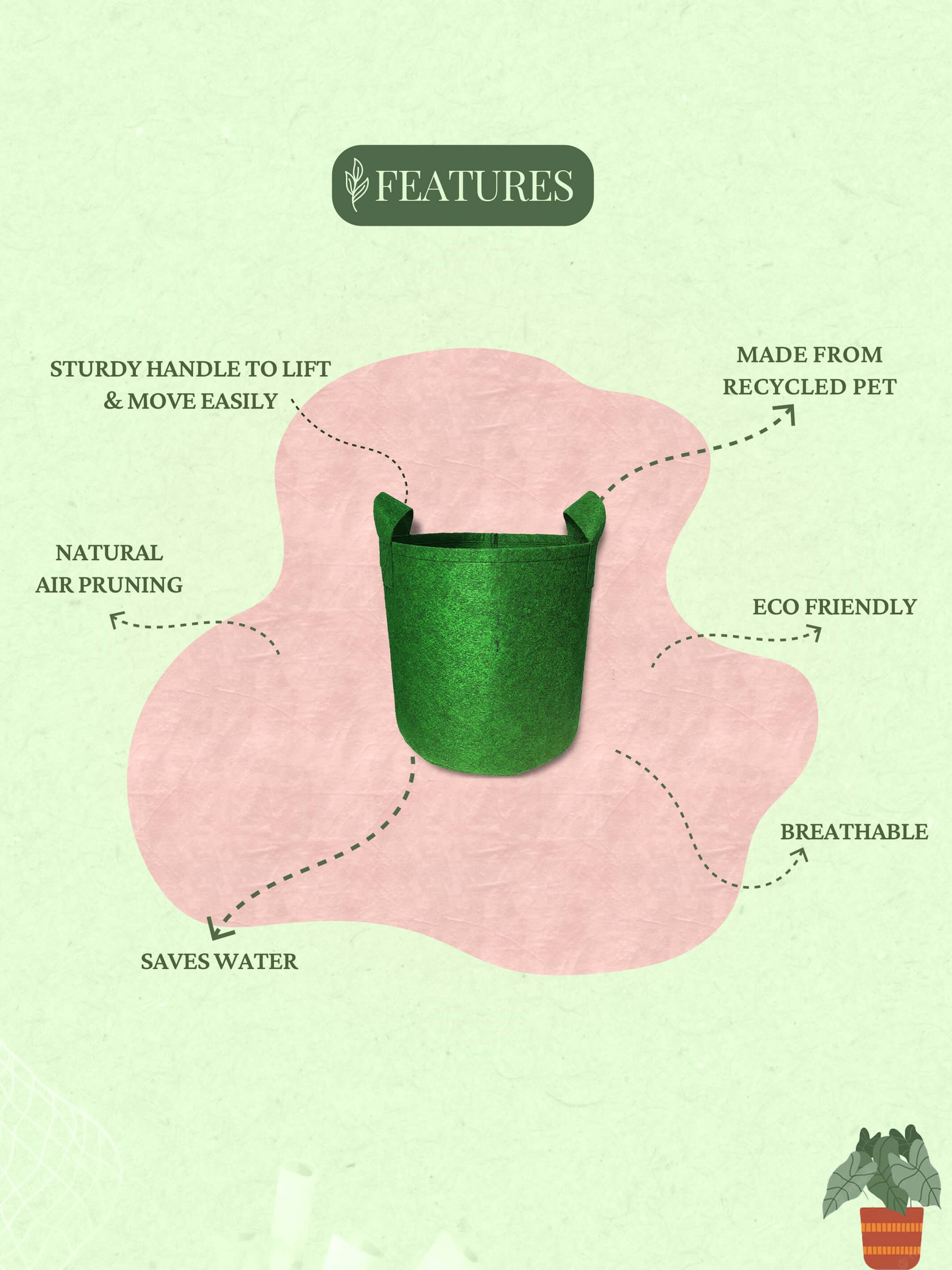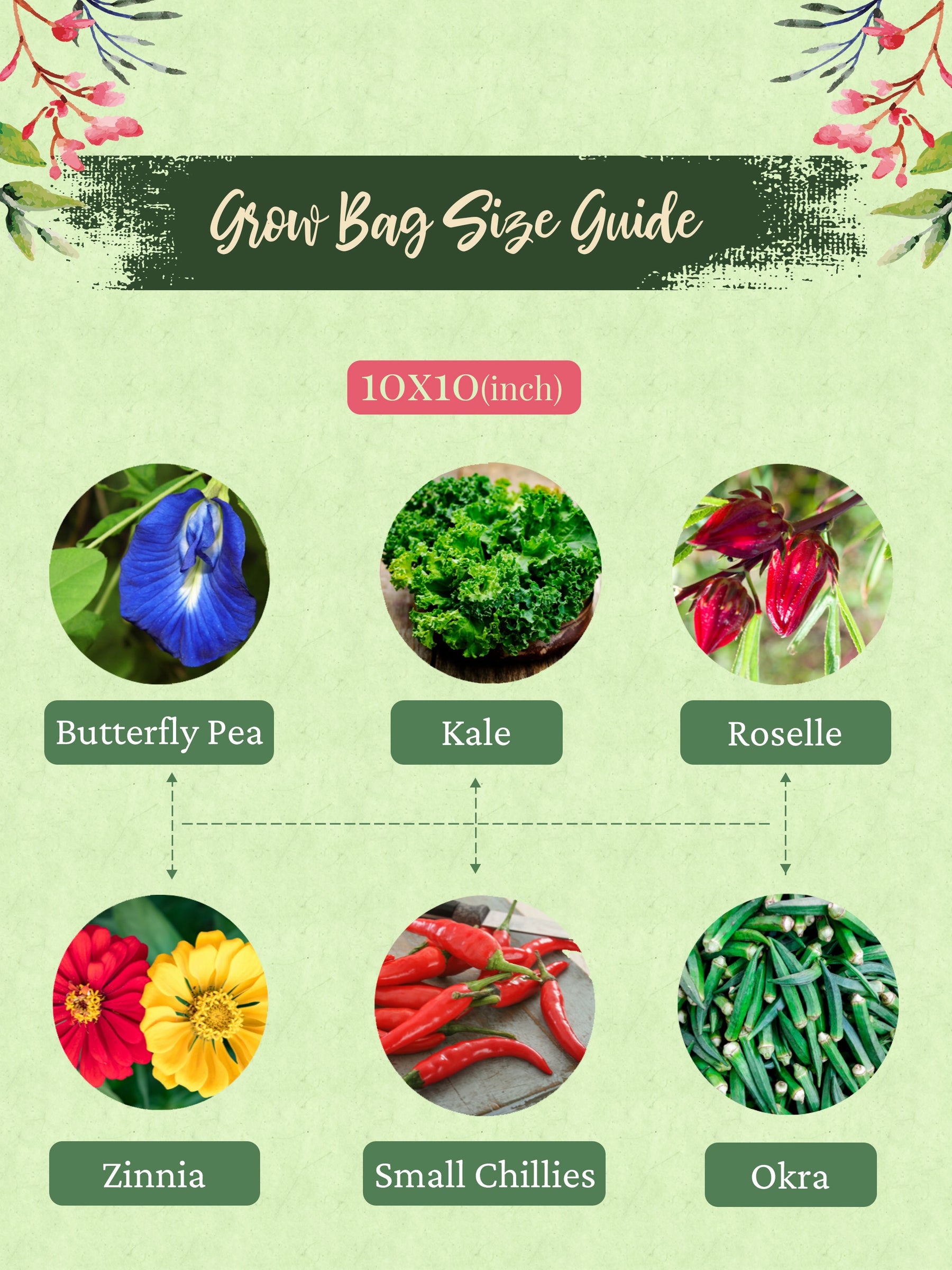 Geo Fabric Grow Bags 400 GSM - (Set of 3) - 10x10 inches
Inclusive of all taxes
Made of high quality and durable 400 GSM non-woven fabric, which is environmentally friendly. These grow bags are foldable for storage, washable for reuse.

These grow bags provide excellent aeration and good air permeability, they can offer enough space for roots to breath and effectively avoid root swirling, promote a healthy root ball.

The fabric pots provide good drainage and allow the roots to breath well which results in stronger, healthier plants. It also aerates soil, prevents heat build-up and allows excess water to drain away.

Suitable For Home Garden, Terrace Gardening, Kitchen Gardening, Terrace Poly House Gardening & Roof Top Balcony Gardening.
Pack of 3 Geo Fabric Grow Bags 400 GSM
We have multiple sizes:
- 6x6 inches (15cm x 15cm) without handles
- 8x8 inches (20cm x 20cm) with handles
- 10x10 inches (25cm x 25cm) with handles
- 12x12 inches (30cm x 30cm) with handles
- 15x15 inches (38cm x 38cm) with handles
- 18x18 inches (45cm x 45cm) with handles
Here I can say , these are really do well
All my plants are healty and well grown in these geo fabric growbags 👍 thanku
Awesome Product
All my seedlings grew well and gave out bunch of beautiful flowers. Grow Bag is very thick and best quality product and will order again for more grow bags.
Elegant and handy
A good Grow bag. Would easily recommend it for all. Sufficient for anything u want to plant in a terrace garden...
Good stuff for gardeners
These are genuine grow bags in good quality and ideal for growing stuff in building balconies or smaller spaces So overall excellent bags and better than traditional pots which were difficult to maintain.
Fabric is very good quality
I had ordered a size 12*12. The fabric is very good and the bag itself was pretty large. I have planted carrots and radishes and 'am planning to plant a few tomatoes in it as well.
Liquid Organic Fertilizer for Roses & Orchids
Our Liquid Organic Fertilizer is everything you need to grow Healthy Roses & Orchids
Features :
• Organic
• Fast release fertilizer
• Can be used in Hydroponics system
• Can be used as a foliar spray
Organic Soil Less Potting Mix
Benefits :
• 2x plant growth
• 4 in 1 mix (Cocopeat, Vermiculite, Fertilizer, Neem cake)
• Light & Fluffy Mixture
• Perfect for potted plants
General
Fabric grow bags are just what they sound like – a bag that you can grow plants in. They are made from a thick breathable fabric, similar to a reusable grocery bag. Grow bags are well aerated and have superior drainage over traditional plastic pots.
- Grow bags are made of breathable fabric which provides superior drainage and aeration. It is the aeration that makes them preferable to most other garden containers.
- Root bounding does not occur with grow bags. Instead when the roots reach the wall of the grow bag they are burned off, which causes the plant to produce new healthy roots that branch off the original ones. This is known as "air-pruning". In pots, the roots of the plants tend to grow in circles entangling themselves. This increases the likelihood of having oxygenation or water stagnation issues, especially in larger pots that lack proper drainage.
- During the heat of summer and in direct sunlight plastic pots can get quite hot.  Since they are not breathable, they trap all the heat which can cook your plants. Fabric bags regulate temperature due to their breathable quality.  Excess heat can escape from all sides of the grow bag.
Fabric grow bags are made from recycled plastic and fabric mixed together having a thickness of 400 gsm which makes them extremely durable.
Our bags last for 3 years easily and sometimes more depending on the care you take.
12*12 inch Geo Fabric Grow Bag from Bombay Greens are eco-friendly in nature and are suitable for home gardening, rooftop balcony gardening, kitchen gardening and terrace gardening. These 12-inch grow bags are suitable for growing vegetables like bell peppers, zucchini, cucumber, cabbage, broccoli and tomatoes. 
Made with high-quality and durable 400 GSM non-woven fabric material, our 12-inch GSM grow bag is reusable. They last for long and can be folded for storage. 
With excellent drainage, air permeability and aeration, our 12*12 inch Geo Fabric Grow Bag provides enough space for roots to breathe and promote healthy root ball by avoiding root swirling. Healthy roots lead towards healthy plant growth, thus preventing weed growth.
As the fabric is breathable in nature, you don't need to create holes. Water drains out on its own from the bags.
The high-quality 400 GSM non-woven fabric of the 12-inch grow bags makes them highly durable in nature. You can wash our 12 Inch GSM grow bag for reuse and can easily store it for later use.
Our 12-inch Geo Fabric Grow Bag is suitable for growing vegetables such as bell peppers, zucchini, cucumber, cabbage, broccoli and tomatoes. This grow bag can be best used in kitchen gardening, rooftop balcony gardening, terrace poly house gardening and home gardening purposes.
Shipping
Shipping is FREE for all PREPAID orders above Rs 598.
ALL COD orders will be charged additional Rs 65 irrespective of the total value.
Returns
We do not offer returns on the products however we issue replacements if there is a concern with the item. For replacements, please write to us on info@bombaygreens.com
Cancellation
Orders once placed through  www.bombaygreens.com cannot be cancelled and no refunds will be made once an order has been successfully placed.
Danke Group
Flt-3 Salasar Kutir, 60 Feet Rd, Bhayandar (W), Mumbai-401101