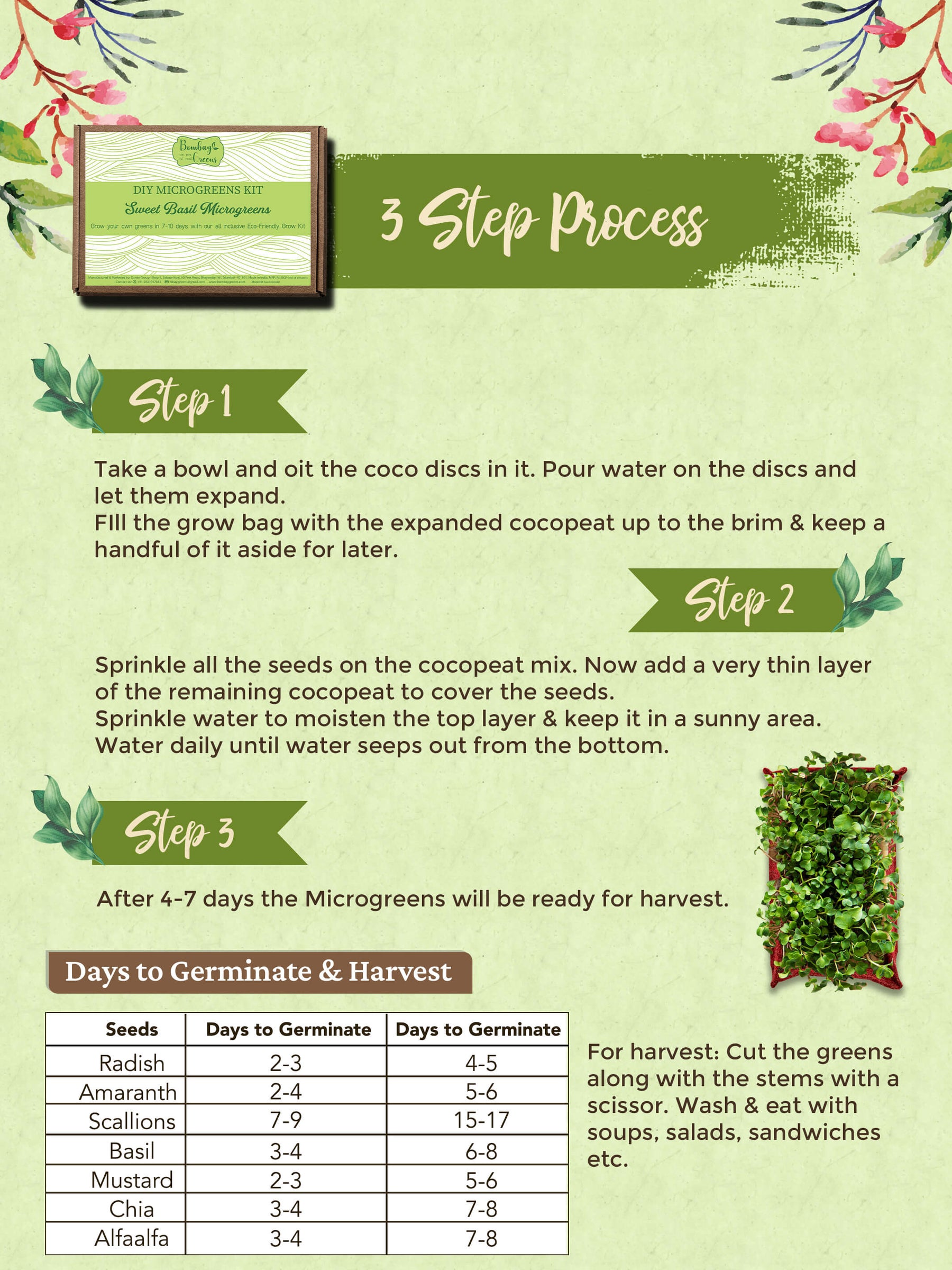 DIY Microgreens Eco-Friendly Kit - Sweet Basil
Inclusive of all taxes
Buy any 4 Kits & Get 1 Tools kit worth Rs.199 FREE. Use code FREETOOLS
EASILY GROW YOUR OWN MICRO GREENS AT HOME. 

Microgreens are veggies that can be harvested in few days and have 4x nutritional value than mature greens. Bombay Greens microgreens kit contains everything you need to grow healthy greens from seeds.
A COMPLETE MICROGREENS KIT.

The kit contains everything you need to get growing, including seeds, fabric grow bag, compressed coco pellets and a comprehensive gardening guide.
The kit contains everything you need to get growing:-
- 1 Fabric Grow Bag
- Coco Coir Discs
- 1 Seed Packet
- User Manual
Your combination of seeds is very good but you should provide seeds separately at a lower cost without cocopit, growing container and plant food.
Great service. Grrreat packaging. Wonderful product. Cherry tomatoes have sprouted, sweet basil too. No sign of oregano sprouting yet. Very worried. What to do
Good quality!!
Cheapest price, best quality, Loved it.
Simply loved it.
The kit comes with great quality of seeds, grow bag to carry your gardening activity without buying anything else.
Overwhelmed with the results.
It shows an amazing result within weeks, just what you need to do is follow the guide.
Danke Group
Flt-3 Salasar Kutir, 60 Feet Rd, Bhayandar (W), Mumbai-401101