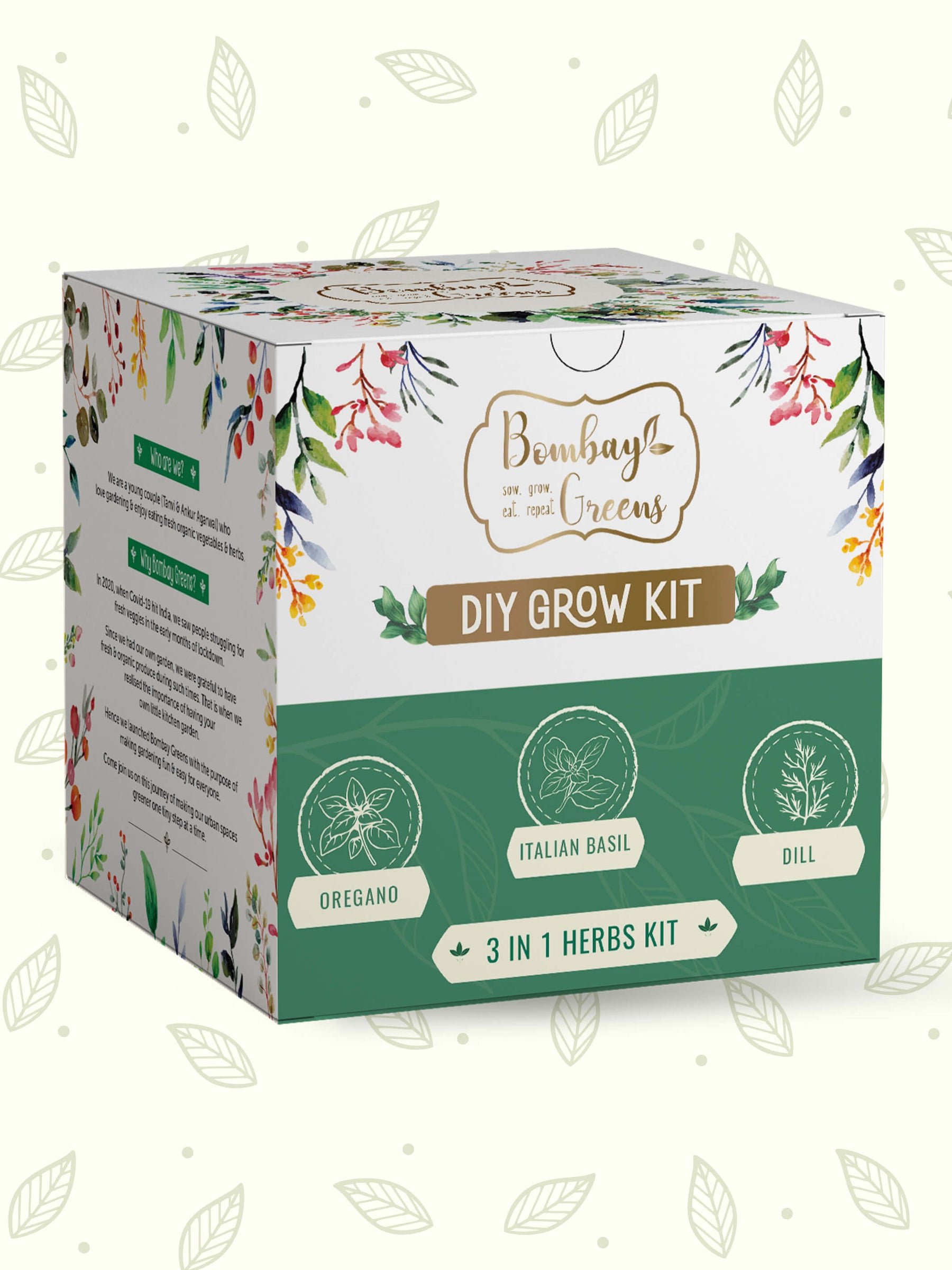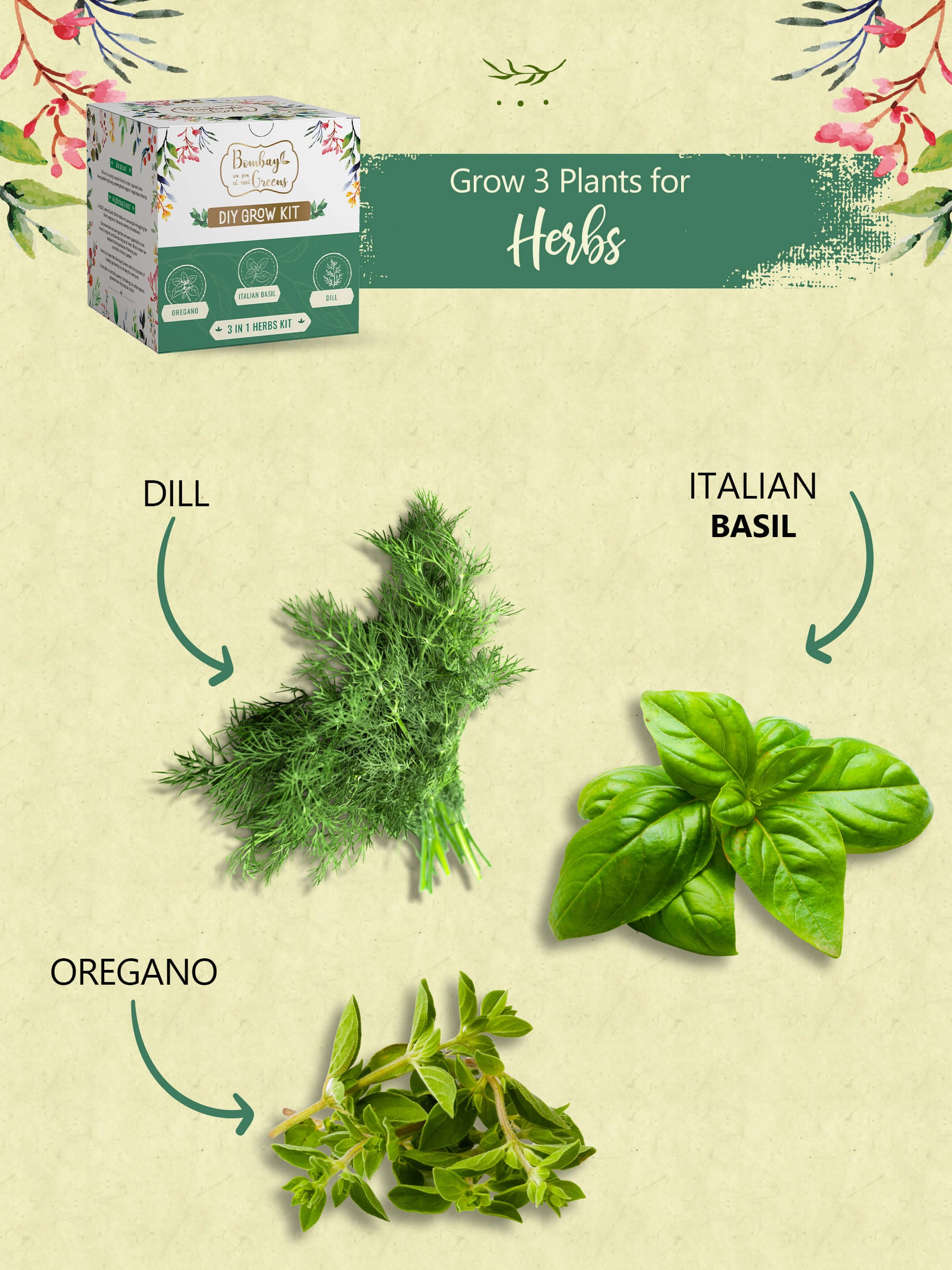 Herbs Kit - Italian Basil, Dill, Oregano
Inclusive of all taxes
Buy any 4 Kits & Get 1 Tools kit worth Rs.199 FREE. Use code FREETOOLS
Grow your own Herbs
Now you can Grow your own Food using our easy DIY Grow Kits.
Perfect for Indian Weather Conditions
Wide range of Exotic & Indian Veggies along with Edible Flowers
EASILY GROW YOUR OWN HERBS AT HOME
There's nothing better than growing your own kitchen garden full of herbs. Bombay Greens grow kit contains everything you need to grow 3 herbs from seed: Italian Basil, Oregano and Dill.

The kit contains everything you need to get growing:

- 3 Types of seeds (~5 seeds per variety) - Italian Basil, Oregano and Dill.
- 3 Grow pots (3 inches) 8.89cm x 8.89 cm x 10.16 cm
- 4 Coco peat pellets compressed
- 1 Pack of Organic fertilizer
- 3 Plant markers
- 1 Grow Guide/Manual
1. Pour water on Coco discs and let it expand. Mix Plant food with expanded cocopeat.
2. Fill the pots with the mix.
3. Sprinkle seeds, spray water and keep them in sunlight.

That's it. As simple as that!
Basil sprouts started appearing on day 2 itself.Oregano and Dill haven't showed any growth yet.Hopefully will sprout soon.
Oreganu dint grew
Dill and basil speouted but oregany dint grew money got wasted
Great for beginners.
Their packaging is A+ and Pamphlet regarding information is clear and easy to understand, even for an inexperienced gardener like myself. I think the Plant food they pack is full of good nutrients too.
Helpful instruction, and easy to grow.
This kit comes with EVERYTHING you will need to begin growing the herbs!! I planted them, following all the instructions, and well I haven't killed anything yet. They even started sprouting after a week and a half or so!
Easy and great experience.
The packaging is amazing, well thought out and organized and fun to open. The instructions were very easy to follow. We have only planted the Italian basil so far, and it started sprouting within a few days.
FAQs on 3 in 1 DIY Grow Kits
General
Our Grow Kits are very easy to use and come with a detailed guide to answer all your questions. Also, there's a video demo on the site to help you exactly how to follow the process.
All our grow kits, require minimum 3-4 hours of sunlight and it is not possible to grow them without sunlight.
Yes, all plants need to be transplanted to bigger pots. What's provided in the box are Seedling Pots of 3 inch size.
Customising kits is not available right now. However, we have a huge selection of curated kits that will definitely suit anyone's needs.
Yes, all our seeds are tested for germination and growth. They perform amazingly well in Indian conditions. Do check out our Instagram Page bombay.greens for more updates from our fellow gardeners
Shipping
Shipping is FREE for all PREPAID orders above Rs 598.
ALL COD orders will be charged additional Rs 65 irrespective of the total value.
Returns
We do not offer returns on the products however we issue replacements if there is a concern with the item. For replacements, please write to us on info@bombaygreens.com
Cancellation
Orders once placed through  www.bombaygreens.com cannot be cancelled and no refunds will be made once an order has been successfully placed.
Danke Group
Flt-3 Salasar Kutir, 60 Feet Rd, Bhayandar (W), Mumbai-401101