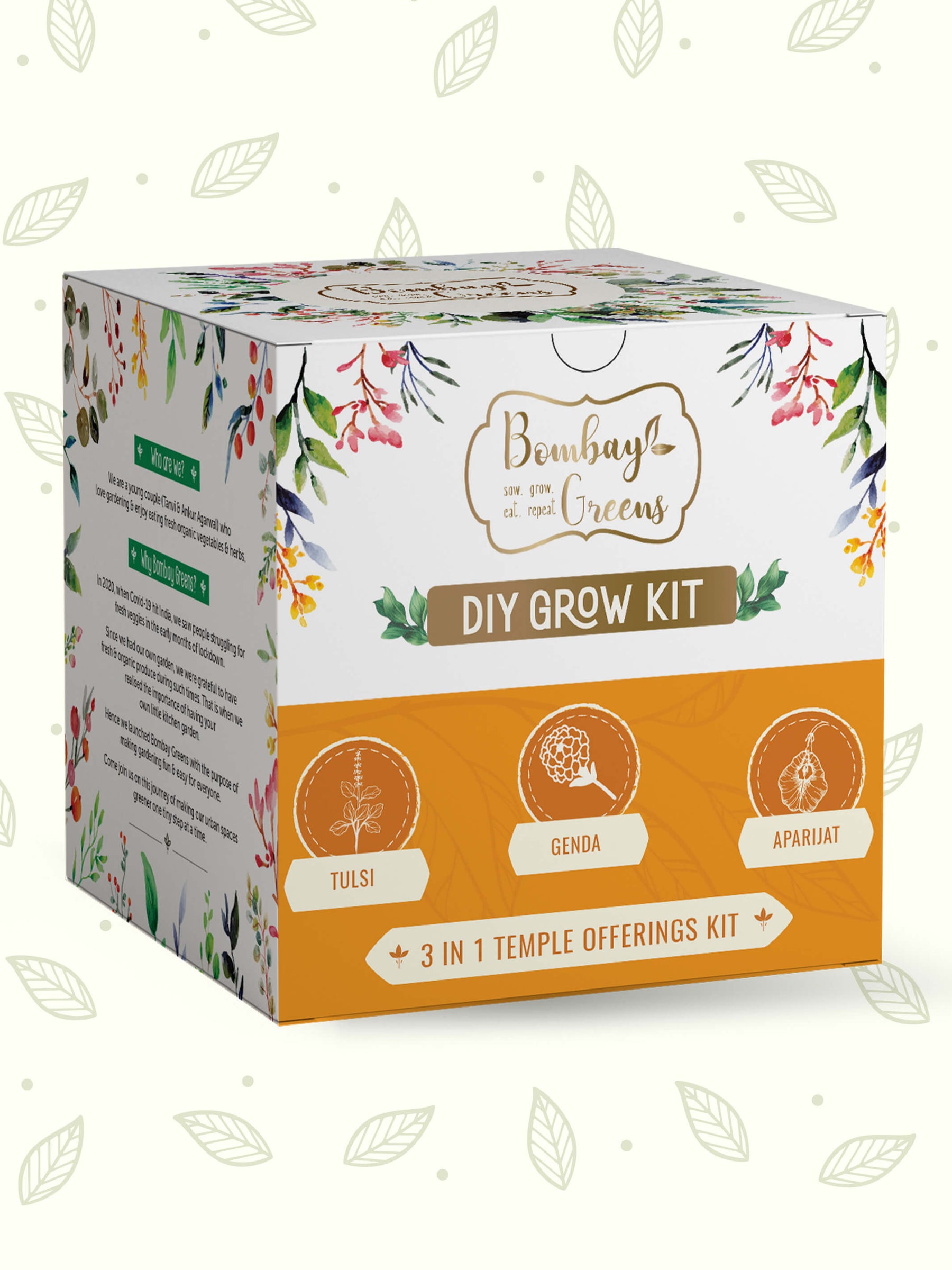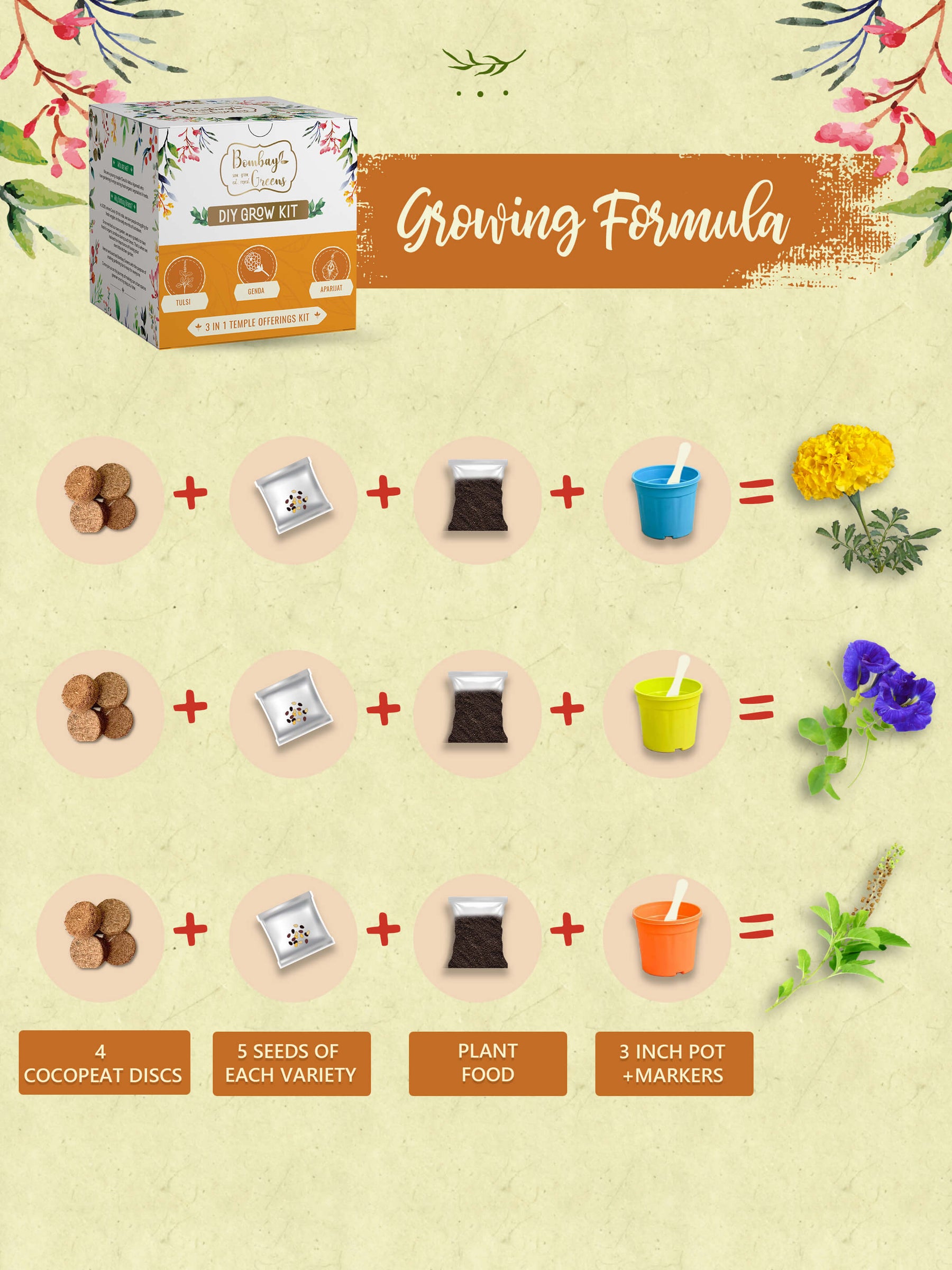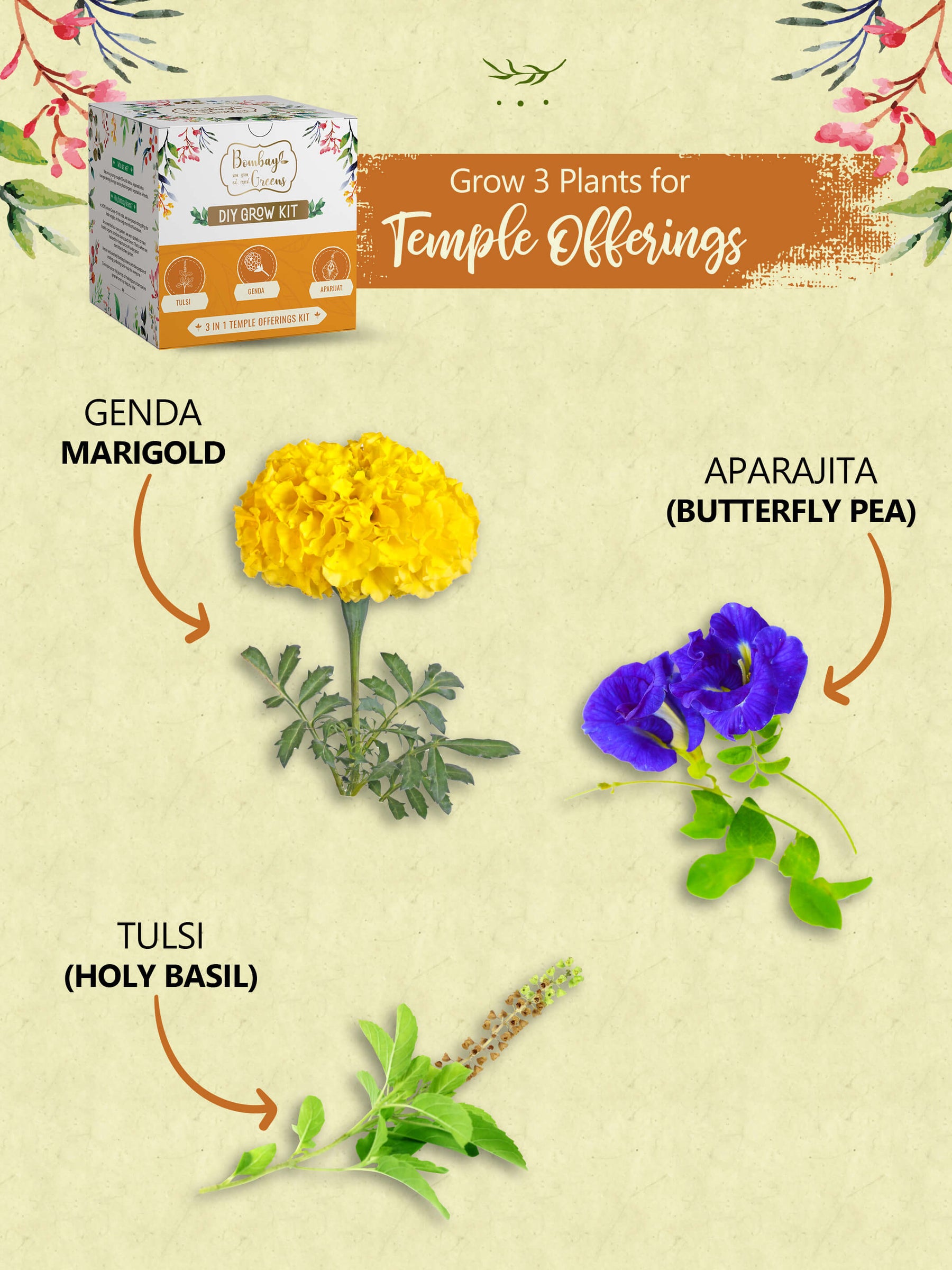 Temple Offerings Kit - Tulsi, Genda, Aparajita
Inclusive of all taxes
Buy any 4 Kits & Get 1 Tools kit worth Rs.199 FREE. Use code FREETOOLS
Grow your own Temple Offerings
Now you can Grow your own Temple Offerings using our easy DIY Grow Kits.
Perfect for Indian Weather Conditions
Wide range of Exotic & Indian Veggies along with Edible Flowers
EASILY GROW YOUR OWN TEMPLE OFFERINGS AT HOME
There's nothing better than growing your own garden full of temple offerings. Bombay Greens grow kit contains everything you need to grow 3 offerings from seed: Tulsi, Genda, Aparajita.

The kit contains everything you need to get growing:

- 3 Types of seeds (~5 seeds per variety) - Tulsi, Genda, Aparijat
- 3 Grow pots (3 inches) 8.89cm x 8.89 cm x 10.16 cm
- 4 Coco peat pellets compressed
- 1 Pack of Organic fertilizer
- 3 Plant markers
- 1 Grow Guide/Manual
1. Pour water on Coco discs and let it expand. Mix Plant food with expanded cocopeat.
2. Fill the pots with the mix.
3. Sprinkle seeds, spray water and keep them in sunlight.

That's it. As simple as that!
Feeling lovely
I have recieved the diy kit on June 23rd and now I love to see them blossom 🌸🌸...
My plants are 3 months old now 🥰🥰🥰🥰
Love your products
I Just love my Plants. I am watching those plants growing in front of my eyes. It gives me immense pleasure.
Temple Offerings Kit - Tulsi, Genda, Aparajita
BOMBAY GREEN EXPERIENCE
I am delighted to be part of the plant lovers encouraged by BG. Growing with Temple offering kit has started with baby steps as few of the seeds have germinated and eagerly looking forward to see them grow bigger for taking up the next phase. BG support and the tips are fantastic and look forward to be associated again. Regards ,
It has
It has started growing as promised and waiting for more results l
FAQs on 3 in 1 DIY Grow Kits
General
Referred to as Holy Basil in English and Tulsi in Hindi, the plant is indigenous to India, including the Himalayan foothills and is also widely present in the Middle East. Tulsi is also known as Manjari, Krishna Tulsi, Trittavu, Tulshi, and Tulsi.
Majorly there is a mention of 4 types of Tulsi in Ayurveda, namely: 
Rama Tulsi or Shri Lakshmi Tulsi with Green Leaf
Shyama or Krishna Tulsi with Purple Leaf
Vana Tulsi with Wild Leaf
Kapoor Tulsi with heavy flowers
For the first week or so after planting, marigolds seeds require moist soil in order to develop a sturdy root system. Once established, these puja flower seeds need watering only when the top layer feels dry, more frequently during the hot summer months.
In the realm of gardening, marigolds have a great reputation. Whether or not they have officially received these honours, they are well known for warding off many insects and pests. It's common to spot their chirpy heads nodding in the warm summer sun next to tomatoes, squash, and broccoli. Root-knot nematodes are very successfully repelled by Marigolds. Their roots release alpha-terthienyl, a substance that prevents nematode eggs from developing.
The seeds should be sown approximately 1/4 inch deep, and you should maintain them moist until they sprout, it normally takes two weeks for Aparajita seeds to germinate.
Aparajita seeds can be sown all year round. After scattering the seeds, cover them with a thin layer of potting soil, water the area well, and set the container in a spot that gets some indirect sunshine. Only irrigate it when the soil seems dry.
Our Grow Kits are very easy to use and come with a detailed guide to answer all your questions. Also, there's a video demo on the site to help you exactly how to follow the process.
All our grow kits, require minimum 3-4 hours of sunlight and it is not possible to grow them without sunlight.
Yes, all plants need to be transplanted to bigger pots. What's provided in the box are Seedling Pots of 3 inch size.
Customising kits is not available right now. However, we have a huge selection of curated kits that will definitely suit anyone's needs.
Yes, all our seeds are tested for germination and growth. They perform amazingly well in Indian conditions. Do check out our Instagram Page bombay.greens for more updates from our fellow gardeners
Shipping
Shipping is FREE for all PREPAID orders above Rs 598.
ALL COD orders will be charged additional Rs 65 irrespective of the total value.
Returns
We do not offer returns on the products however we issue replacements if there is a concern with the item. For replacements, please write to us on info@bombaygreens.com
Cancellation
Orders once placed through  www.bombaygreens.com cannot be cancelled and no refunds will be made once an order has been successfully placed.
Danke Group
Flt-3 Salasar Kutir, 60 Feet Rd, Bhayandar (W), Mumbai-401101