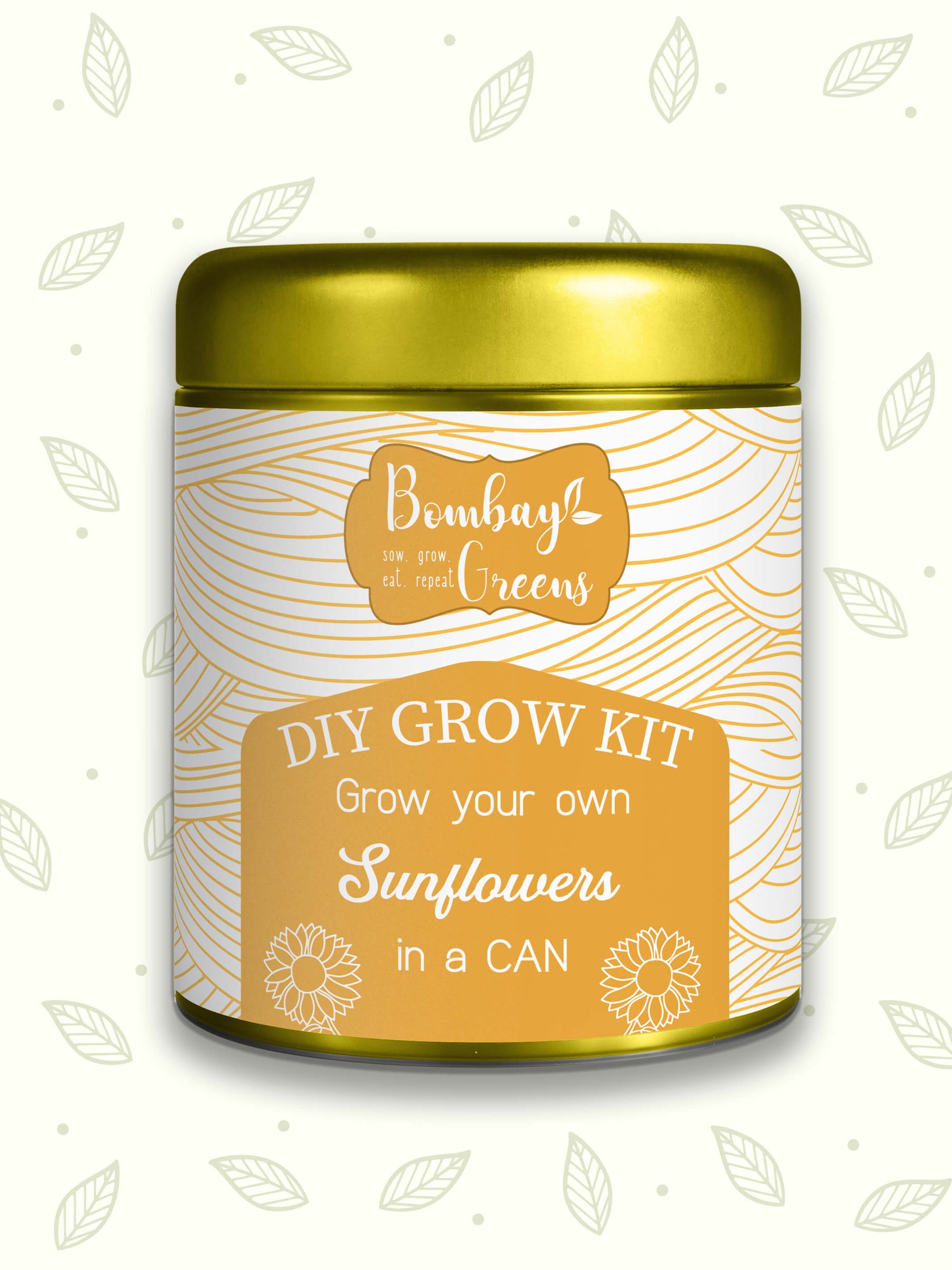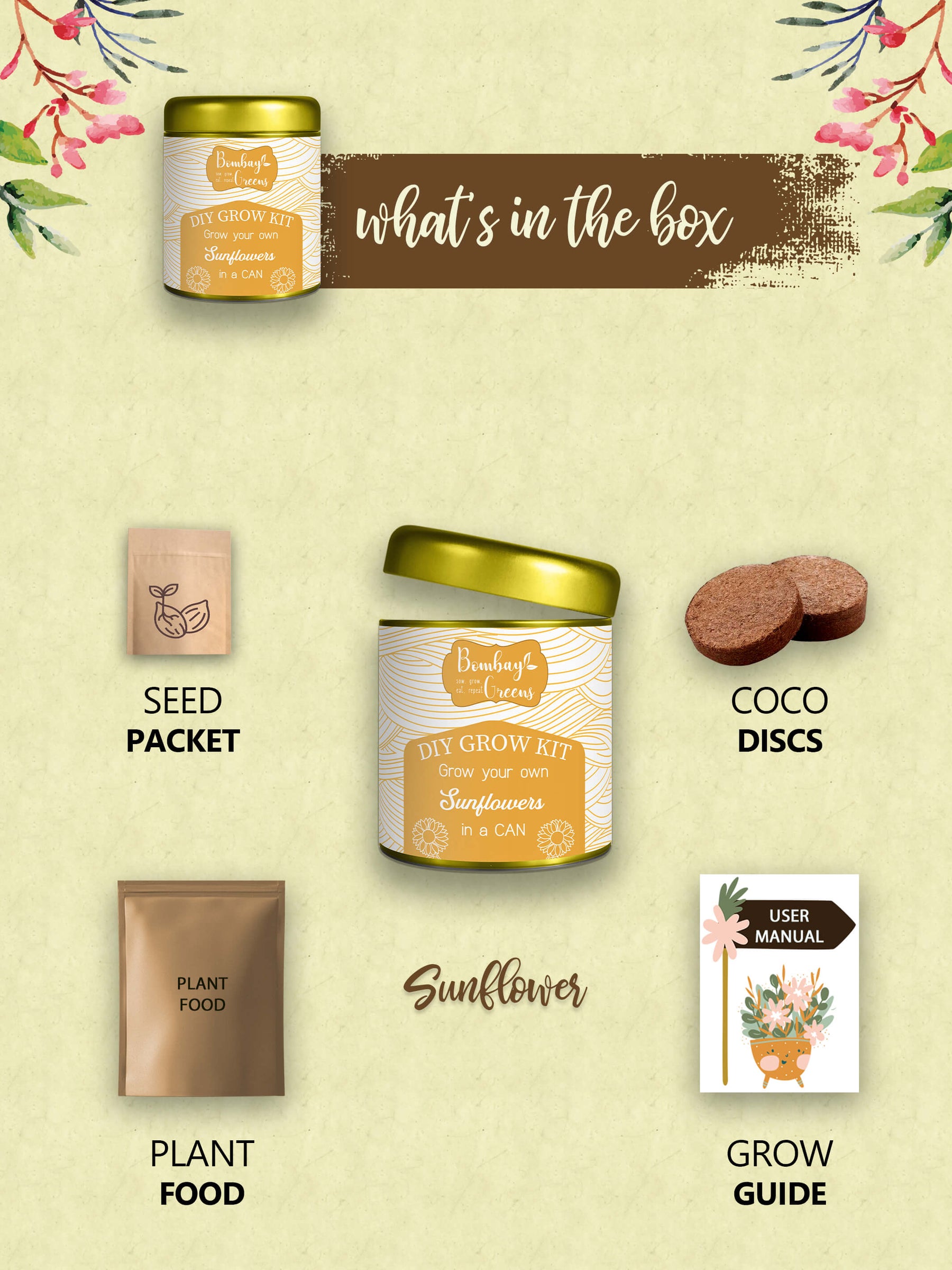 Sow in a Can - Sunflower
Inclusive of all taxes
Buy any 4 Kits & Get 1 Tools kit worth Rs.199 FREE. Use code FREETOOLS
Sow in a Can - Sunflower
Eco- Friendly Grow kit that helps you in growing the flower that brings a smile on everyone! - Sunflower

You can use them for cut flowers, leave them on the stalk for a gorgeous outdoor display in your garden, or harvest and eat their seeds.
The kit contains: 1 tin pot, a glass vial of seeds, 2 Coco Coir Discs, Plant Food & User Manual 
1. Pour water on Coco discs and let it expand. Mix Plant food with expanded cocopeat.
2. Fill the tin pot with the mix
3. Sprinkle seeds, spray water and keep them in sunlight

That's it. As simple as that!
FAQs on Sunflower Grow Kit
General
The tin is 3 inches in size.
You need to water daily using a sprinkler till the seeds germinate. Once the seeds germinate, you need to water only when the top layer feels dry.
Sunflower seeds are most suited to warm temperatures and hence the best time to sow them in India would be from January to June, so that they can bloom during the summer months and the rainy season. As a matter of fact, to reach their maximum bloom and optimum growth, sunflowers need a minimum of six hours of direct sunlight per day. If you are fond of these glorious flowers, and want them to elevate the look of your lawn, you can get on with the journey of growing them with our mini sunflower grow kits. 
Yes, seeds need warmth to germinate. Tins need to be kept in sunlight for quick germination.
When you buy this sunflower grow kit online from Bombay Greens, you can transfer the flowers to their designated place after they reach a certain height (3-4 inches). Sunflowers are annual plants which means that they will last a whole growing season. After reaching maturity in 8-12 weeks after seed plantation, sunflowers give out more seeds which can subsequently be harvested or dried out and eaten. 
The climatic conditions and other environmental factors can also have an impact on the life of sunflowers. 
Sunflowers can thrive in high temperatures as long as the soil is moist and caters to the flower's moisture requirements. These flowers are also able to thrive in a chilly yet sunny atmosphere.
Once the plants grow to a height of 3-4 inches, it needs to be transplanted to their final location. 
No. After the plants reach a suitable height, you have to transplant
them to a bigger pot. Plants will stop growing in these seedling pots
after they reach a particular height.
Yes. After planting sunflower seeds in pots, you should wait for them to grow at least 3-4 inches, before transferring them to a larger pot or their designated space in your garden.
Shipping
Shipping is FREE for all PREPAID orders above Rs 598.
ALL COD orders will be charged additional Rs 65 irrespective of the total value.
Returns
We do not offer returns on the products however we issue replacements if there is a concern with the item. For replacements, please write to us on info@bombaygreens.com
Cancellation
Orders once placed through  www.bombaygreens.com cannot be cancelled and no refunds will be made once an order has been successfully placed.
Danke Group
Flt-3 Salasar Kutir, 60 Feet Rd, Bhayandar (W), Mumbai-401101
Customer Care Phone - +91 8928494885
Customer Care Email - info@bombaygreens.com